The King Rocks Tampa CD
Tampa, April 26 1975 (2:30 P.M. show)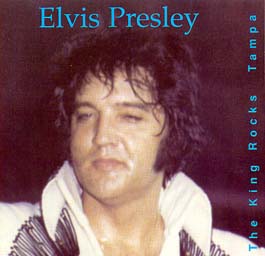 Tracklist:
Also Sprach Zarathustra
See See Rider
I Got A Woman/Amen
Love Me
If You Love Me
Love Me Tender
Teddy Bear/Don't Be Cruel
It's Midnight
Burning Love
Introductions
What'd I Say
School Days
My Boy
T-R-O-U-B-L-E
I'll Remember You
Let Me Be There
American Trilogy
Funny How Time Slips Away
That's All Right
Heartbreak Hotel
Can't Help Falling In Love
Review of the concert:
On April 26, 1975, I was twelve years old and sitting in Section S, Row 24, Seat 8 of Curtis Hixson Hall in Tampa, FL. I was there with my parents and sister waiting patiently for Elvis' afternoon show to begin. As Long as I live, I will never forget the atmosphere of that day. I have never seen so many women in one place in my life. All dressed up in high heels, halter-tops, & so forth. I didn't remember very much about the concert itself, except that it was very good and the audience tried to pull Elvis off the stage at the end when he was shaking hands. I also remember being mad after the show because he didn't sing Hound Dog, today that would be the last thing I would ask him to sing. But basically that was all I could remember, until 1998.