SOLD OUT 17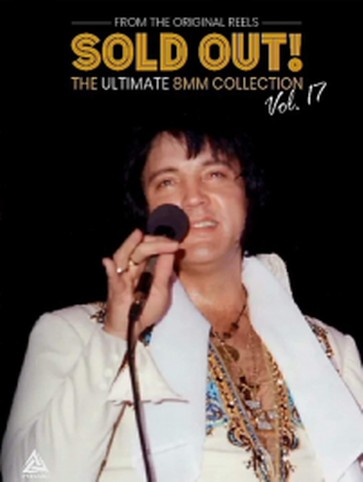 Now that you've seen the Luhrmann movie, it's time to see the real Elvis again! And you get plenty of that on "Sold Out volume 17". Once again we've amassed three hours of rare 8mm footage from concerts ranging from 1970 to '76, and again there are plenty of surprises, even for hardcore fans.
We know that the July '75 shows are a big favorite, and we have found a 25-minutes from one of the shows early on in that tour. His voice was unbelievable, and the energy levels at these shows were amazing. It's always cool to see him joke with the band, like Voice ("I call them a lot of things!"), and his interaction with the female members of the audience shows us again why he is still remembered so fondly. High energy versions of songs like 'Big Boss Man' and 'Burning Love' are some of the highlights.
There's also three films from the December '76 tour, and once again he was brimming with energy. The Atlanta footage especially is great to see. You really get the feel of a great Elvis Presley show. The audience goes apeshit! Elvis even includes rarities like 'Such A Night' and 'Reconsider Baby', as well as a spirited 'That's All Right Mama', the latter two while accompanying himself on the acoustic. His stance and attitude during the last song especially captures the very essence of rock & roll… He's cooler than a fridge here! At the other end of the spectrum, there's a lackluster Vegas '75 performance where he's clearly not into it. But that too is part of the history, and even in those situations he could still surprise people with a masterful performance of a song like 'My Boy'.
There's also two interesting pre-show clips, which show the band tuning their instruments, Al Dvorin testing his microphone, Charlie Hodge center stage and more. This is a lot of fun to see, and it really gives you the feeling of being there, moments before the concert. You can almost sense the excitement that people felt at the time. Elvis' girlfriend Linda Thompson is also visible in the footage.
From 1973, there's neat footage of him performing in the Aloha outfit. It's interesting to note that he is far more dynamic that during the Aloha show. By this time, he had developed a routine for 'Steamroller Blues', which brought forth a lot of screams from the ladies in the audience! 'American Trilogy' is performed with lots of passion by Elvis, and at one point he is actually marching to the beat. Goosebumps! There's much more to enjoy on the new "Sold Out", way too much to list all of it here. All we can say is: Get it today!