Swinging Into The Action (2 CD set)
To be released soon, Swinging Into The Action (SR Records) with focus on Elvis' April&June 1972 tour, featuring Albuquerque NM April 19th 1972 and the Milwaukee WI, June 14th, 1972. Both the shows are previously unreleased taken directly from a first generation tape.
The SR attitude is to present Elvis at the peak of his possibility and without any doubt Elvis' first two Tours in 1972 present him at the top of his possibilities, delivering maybe shows shorter than the previous November 1971 tour, but still solid. If Rock is an attitude the man still has it. The performances are terrific, rough and sharp.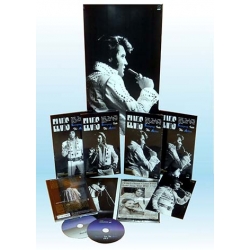 Here are presented two unreleased shows from the April and June tour. Both the show are very similar, the track list is minimized and the shows are practically identical, with some minor exception like the rare "The First Time Ever Saw Your Face " included in the final Show of Albuquerque..
We are happy and proud of the result we hope you can enjoy too, in spite of the limitation of the audience recording, we are talking of a big Arena shows not of the intimate Las Vegas showroom. The shows are fantastic and the track listing is solid, Elvis is delivering us a sort of greatest hits. Starting from his latest single Until It's Time For You To Go then with the Anthem An American Trilogy passing the best single of 1969, Suspicious Minds without forgetting the glorious fifties with Heartbreak Hotel and Hound Dog…. All the songs are very well performed.
Recorded Live At Tingley Coliseum , Albuquerque NM April 19th 1972
Time 57 min
01. 2001 Theme 02. CC Rider 03. Proud Mary 04. Never Been To Spain 05. Love Me Tender 06.You Gave Me A Mountain 07. Until It's Time For You To Go 08. Polk Salad Annie 09. Love Me 10. All Shook Up 11.Teddy Bear 12. Don't Be Cruel 13. Heartbreak Hotel 14. Hound Dog 15. How Great Thou Art 16 I Can't Stop Loving You 17. Suspicious Minds 18. Band Introductions 19. For The Good Times 20. An American Trilogy 21. The First Time Ever I Saw Your Face 22. Funny How Time Slips Away (+ reprise) 23. Can't Help Falling In Love 24. Closing Vamp
Recorded Live At Auditorium Arena, Milwaukee WI, June 14th, 1972
Time 52 min.
01.That's All Right 02. Proud Mary 03. Never Been To Spain 04. Until It's Time For You To Go 05.You Don't Have To Say You Love Me 06. Polk Salad Annie 07. Love Me 08. All Shook Up 09 .Heartbreak Hotel 10.Teddy Bear / Don't Be Cruel 11. Love Me Tender 12. Bridge Over Troubled Water (missing the reprise) 13. Hound Dog (missing first part) 14. Suspicious Minds 15. Band Introductions 16. For The Good Times 17. An American Trilogy 18. Funny How Time Slips Away 19. I Can't Stop Loving You 20. Blue Suede Shoes 21.Can't Help Falling In Love 22. Closing Vamp
Audience recording