The Nashville Marathon Vol. 2 CD

MTP is back with some amazing new releases!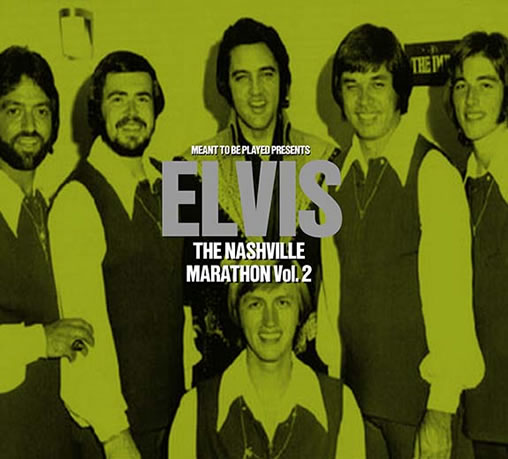 We all remember the "good old days" when FTD released their first releases like
"The Jungle Room Sessions", "Fame and Fortune" and "Out in Hollywood".
Those cds were in our players for weeks, due to all the unreleased stuff, great sound quality and last but not least the fact there were a lot of complete outtakes never heard before.
After a while, although the releases were still fantastic, we got more and more cds with lots of outtakes from the same songs, great for collecting, but listening pleasure was a bit less fun...
The label continues their series with two releases which will be in your player for weeks, and are again "Meant to be Played"
THE NASHVILLE MARATHON VOLUME 2
This time we get the 1971 sessions in the same treatment as the first volume, some hard to find tracks and outtakes are included as well as some nice surprises and edits such as the extended version of "Lady Madonna" which rocks like never before.
Another highlight is the new "Don't Think Twice It's Allright" edit of take 2 recorded on May 17th.
Presented in deluxe digipack
Tracks:
Early Morning Rain - Take 1,11
Put Your Hand in the Hand - take 1
Fools Rush In - take 6
Are You Lonesome Tonight (excerpt)
It's Only Love - Spliced take 2,7,8
I'm Leavin' - Spliced take 2,3
I Shall Be Released - Informal Jam
Don't Think Twice It's Allright - May 17 edit
For Lovin' Me - Take 2,11
Help Me Make It Through the Night - Spliced take 2,14,15
Seeing is Believing - take 10
A Thing Called Love - Spliced take 7,7,3
We Can Make the Morning - Unedited Overdubbed Master
Love Me, Love the Life I Lead - take 5,6
Padre - take 11
Lady Madonna - Extended Jam
Bosom Of Abraham - take 5/You Better Run(excerpt)/I John - take 1
Bosom Of Abraham take 7
Reach Out To Jesus - false starts, take 9
I Will Be True - take 2
It's Still Here - Spliced take 2,3
I'll Take You Home Again Kathleen -Master overdubbed
My Way - Spliced take 1,3