Elvis Sold Out Vol 5 | 2 x DVD Set is a fantastic new volume in the smash series of DVDs and features exclusive and Uber rare footage for the first time ever of elvis performing in Lake Tahoe amongst other locations all in great great quality.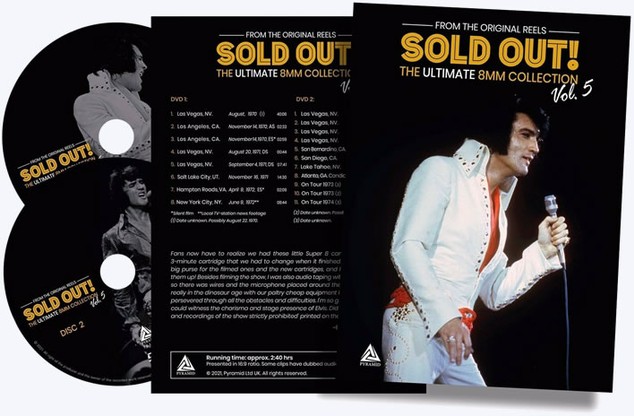 Volume 5 is a salute to the original filmers, thanks to whom we can now enjoy these fantastic clips of Elvis on stage. In the liner notes, one of these original filmers describes the excitement of seeing the man in concert, and the challenges of filming him and not getting caught. Several of these filmers later experienced getting scammed by certain collectors for their material, an unfortunate situation that Pyramid is now trying to correct by reaching out to the original filmers and paying them for the use of their footage.
Volume 5 is a real humdinger of a release, this time presented in beautiful deluxe digipack with extensive notes and rare original photos. And the contents are just spectacular, and even include a full unreleased concert performance. If you enjoyed vols. 3 and 4, then you will LOVE volume 5! As always, everything is presented precisely as it was originally recorded, and carefully restored without altering anything. This is the real deal.