A Powerhouse Performance 4 CD-Set

OUT NOW on the newly found NOW ENTERTAINMENT label is this beautiful ULTRA LIMITED editon boxset containting 4 POWERHOUSE PERFORMANCES.
The first shows from this August engagement were shot by MGM for the legendary "That's The Way It Is" motion picture, and recorded by the record company for the release of the soundtrack.
The recordings featured here were recorded right after the MGM & RCA crew had left.
This boxset contains the following shows:
AUGUST 14, 1970 MIDNIGHT SHOW
AUGUST 19, 1970 DINNER SHOW
AUGUST 19, 1970 MIDNIGHT SHOW
AUGUST 20, 1970 DINNER SHOW
All shows are remastered and speed corrected and never sounded better then now.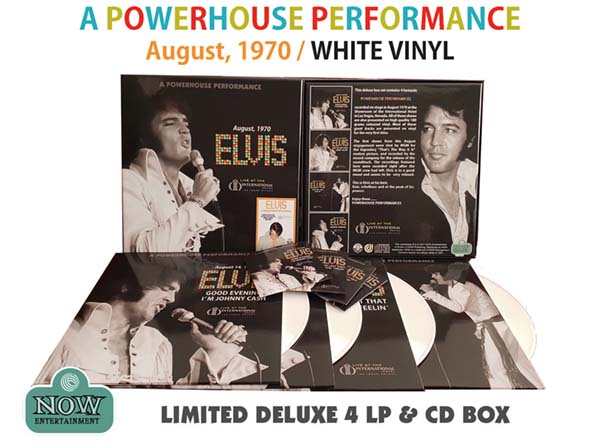 CD 1 - 14.08.1970 MS:
That's All Right - Amen - I Got A Woman - You Don't Know Me - I Got A Woman (Reprise) - Mystery Train / Tiger Man - Folsom Prison Blues - I Walk The Line - Monologue - Love Me Tender - Monologue - Johnny B Goode - Whole Lotta Shakin' Goin' On / Blueberry Hill - The Wonder Of You - You've Lost That Lovin' Feelin' - Polk Salad Annie - Introductions - Oh Happy Day - All Shook Up - Blue Suede Shoes - One Night - Bridge Over Troubled Water - Suspicious Minds - Can't Help Falling In Love
From The MGM Camera Recordings:
Polk Salad Annie - All Shook Up (Part Only) - Blue Suede Shoes - One Night
Bonus Songs:
Opening Vamp - That's All Right (Incomplete) - Love Me Tender (Incomplete) - Suspicious Minds (Incomplete) - Can't Help Falling In Love (Incomplete)
CD 2 - 19.08.1970 DS:
Orchestra Intro - Opening Vamp - Tiger Man - I Got A Woman (False Start) - I Got A Woman / Ave Maria (Excerpt) - Monologue - Love Me Tender (False Start Only) - I've Lost You - You Don't Have To Say You Love Me - You've Lost That Lovin' Feelin' - Polk Salad Annie - Introductions - The Wonder Of You - Heartbreak Hotel (Including False Starts) - One Night - Blue Suede Shoes / Along Came Jones (Excerpt) - Hound Dog (Including False Starts) - Bridge Over Troubled Water - Suspicious Minds - Can't Help Falling In Love
CD 3 - 19.08.1970 MS:
Orchestra Intro - Opening Vamp - That's All Right - I Got A Woman - Tiger Man - Monologue - Love Me Tender - Instrumental Intermezzo (#1) - I've Lost You - I Just Can't Help Believin' - You've Lost That Lovin' Feelin' - Polk Salad Annie - Instrumental Intermezzo - Introductions - Johnny B. Goode (James Burton Intro) - Introductions Continues - The Wonder Of You - Heartbreak Hotel - One Night - All Shook Up - Blue Suede Shoes - Hound Dog (Including False Starts) - Bridge Over Troubled Water - Suspicious Minds - Can't Help Falling In Love - Closing Vamp
CD 4 - 20.08.1970 DS:
Opening Vamp - That's All Right - I Got A Woman / Ave Maria (Excerpt) - Tiger Man - Monologue - Love Me Tender (With False Start) - I've Lost You - I Just Can't Help Believin' - You've Lost That Lovin' Feelin' - Polk Salad Annie - Introductions - Johnny B. Goode (James Burton Introduction) - Introductions - The Wonder Of You - Heartbreak Hotel - Memphis Tennessee (One Verse) - One Night - Blue Suede Shoes - Hound Dog (Including False Starts) - Bridge Over Troubled Water - Suspicious Minds - Can't Help Falling In Love - Closing Vamp / Announcements