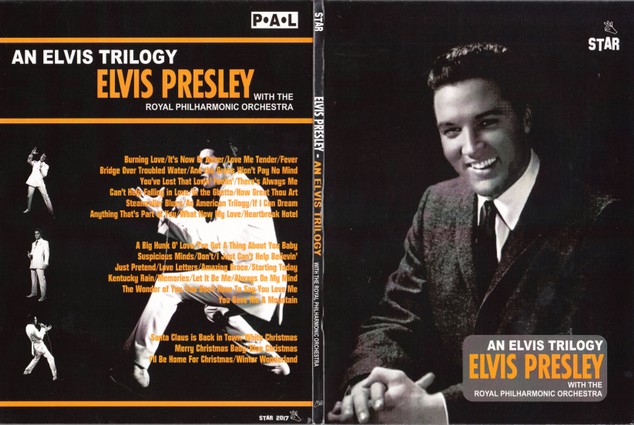 AMAZING SET including 45 tracks, presented on dual layer disc.
Brandnew STAR release including last years "The Wonder of You" AND the previous release "If I Can Dream" on one disc!
The tracks have been re-arranged and the overall experience is even better in this sequence since it is more complete then before.
Some new unreleased edits are included on some tracks, there is a "solo" version of "Just Pretend" and as extra bonus, some
"color" versions are included, you can decide which you like best, but most will agree, the "Black and White" edits make this set
much more "whole" and the stories told work much better presented that way.
This is another must have STAR set for a very good price...... including 15 new and unreleased tracks!
BUT WAIT.. it gets even better.... there are SIX fantastic new clips taken from the latest "Christmas With Elvis" release which will blow you away, and
make this set even better! "Santa Claus is Back in Town" must be the greatest new clip , which focusses on Elvis 1968 NBC Special.... telling ELVIS is back in town,
showing footage of EVERY part of the special edited to perfection in the now famous "split screen" which worked so well in the earlier releases.
A must have set for Christmas! Relive these fantastic "old" edits combined with new clips and rare footage...
Experience the whole story, from his rise to fame (Heartbreak Hotel) to his army days (I'll Be Home for Christmas)
His marriage (Love Me Tender), His love for Lisa Marie (Can't Help Falling in Love) to his divorce (Suspicious Minds)
His death (What Now My Love) and resurrection (An American Trilogy)
And many MANY more "story telling" clips and incredible edits on live performances
Full tracklisting:
Oh, Pretty Woman
If I Can Dream
A Big Hunk O' Love
Burning Love
I've Got A Thing About You Baby
Heartbreak Hotel
Don't
Santa Claus is Back in Town
Winter Wonderland
There's Always Me
Bridge Over Troubled Water
The Wonder Of You
I'll Be Home For Christmas
Fever
Steamroller Blues
Love Letters
Blue Christmas
Merry Christmas Baby
Love Me Tender
And The Grass Won't Pay No Mind
Can't Help Falling In Love
White Christmas
You Don't Have To Say You Love Me
You've Lost That Loving Feeling
Just Pretend (solo version)
In the Ghetto
Suspicious Minds
Kentucky Rain'
Always On My Mind
Starting Today
It's Now Or Never
I Just Can't Help Believin'
You Gave Me A Mountain
An American Trllogy
What Now My Love
Anything That's Part of You
Amazing Grace
How Great Thou Art
Memories
Let It Be Me
Bonustracks
Burning Love (color)
How Great Thou Art (color)
Just Pretend (duet version with Helene Fischer)
Can't Help Falling in Love (color)
An American Trilogy (color)