The 8mm Underground Films - Elvis - A Medley Of Costumes Volume 1
Cine8 is proud to present a very special presentation of newly discovered footage.
Shot on 8mm and Super-8, you'll get to see Elvis in a "Medley of Costumes", from Las Vegas to Johnson City.
Everything on this DVD was shot by fans. As most of you know, the majority of these films don't have complete performances. However, with clever editing, we have assembled a great selection of complete songs. We overdubbed every song with soundboard quality audio, turning it all into a wonderful experience.
Ask your local dealer for this wonderful release!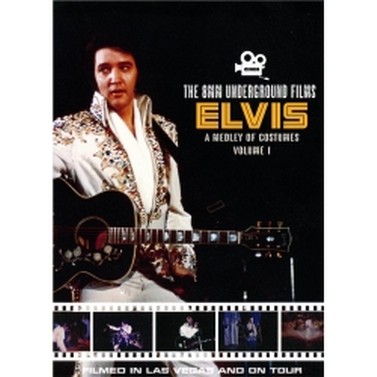 Footage dates:
1973-02-15 Las Vegas
1973-02-17 Las Vegas DS
1973-02-17 Las Vegas MS
1973-02-18 Las Vegas DS
1973-02-23 Las Vegas Closing Show
1974-06-23 Philadelphia ES
1974-06-24 Niagara Falls ES
1974-06-27 Bloomington
1974-09-27 College Park
1974-09-28 College Park
1975-07-18 Richfield
1975-07-19 Uniondale ES
1976-03-17 Johnson City
1976-03-22 St. Louis
As a bonus we included a 40 minutes split screen edit of Elvis' performance in San Bernardino on November 13, 1972!
Track list:
Sweet Inspiration (by the Sweet Inspirations) – See See Rider – I Got A Woman/Amen – You Don't Have To Say You Love Me – Until It's Time For You To Go – Polk Salad Annie – Love Me – All Shook Up – Heartbreak Hotel – Love Me Tender – Teddy Bear/Don't Be Cruel – Blue Suede Shoes – Little Sister/Get Back – I'll Remember You – How Great Thou Art – Suspicious Minds – Introductions – What Now My Love – Fever – Burning Love – You Gave Me A Mountain – Mystery Train/Tiger Man – Can't help Falling In Love