I'm Evil - Live Chronicles Vol. 1 CD - CMT/STAR
Don't mess around with me.....I'M EVIL.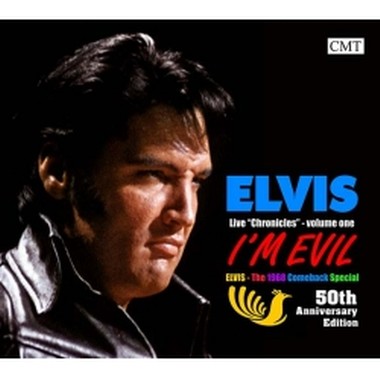 This year marks the 50th anniversary of Elvis legendary "Comeback Special" .
Since the performances can not be beaten, the best thing for us to do would be to present them in the same way as they were recorded... but since that has been done over and over (and over and over) CMT is proud to present this STAR production , which is the best release containing the 1968 recordings.....in 50 years!!
Much time and effort went into this release, some live tracks have been "spliced" from different shows, some studio tracks have been re-created and sound breathtaking!
The live tracks are blended very cool, so you get the feeling you are listening to a complete show.
Probably THE highlight is the "complete" version of Trouble/Guitar Man, cool edits make this work very well and makes the track even more "Evil"
Some tracks have been shortened to make it a different listning experience, "That's All Right" for example is presented just like the original 1954 version, with no repeating versus and chorus.
"Let Yourself Go" has been spliced with the instrumental version and sounds very different. The "Gospel" segment has been re-created from scratch containing clever splices to make it sound just like the original version, only different ..."Blue Suede Shoes" (Stand up) has been re-edited and kicks some serious a.....
Throw in some more spliced takes , a rare rehearsal version of Blue Moon of Kentucky (spliced) and some cool live edits, turn up to volume and enjoy this excellent release
Blue Moon of Kentucky - Rehearsal
Band Warming Up
Trouble/Guitar Man - Alternate Extended Master
That's All Right - Spliced version
Heartbreak Hotel
Hound Dog
All Shook Up
Jailhouse Rock
Don't Be Cruel
Blue Suede Shoes - Alternate Master
When My Blue Moon Turns To Gold Again - Spliced version
Trying To Get To You
Lawdy, Miss Clawdy
Can't Help Falling in Love
It Hurts Me Section 4 part 1, take 1/Section 1 take 1
If I Can Dream - take 1
Let Yourself Go - Alternate Master
Nothingville Evil Section 1 take 1
Guitar Man Evil Section 1, take 10
Big Boss Man Escape Section 3 take 1
Guitar Man Section 2, take 1
Little Egypt Section 2 , take 1
Baby What Do You Want Me To Do
Tiger Man
Are You Lonesome Tonight? - Alternate Master
One Night
Love Me Tender
Love Me
Sometimes I Feel Like A Motherles Child - take 1
Where Could I Go But To The Lord - take 1
Up Above My Head - spliced take 4,7
Saved - Alternate Master
Memories - Alternate Master