Elvis Presley Pearl Harbor - The Double Album CD
Elvis Presley | Pearl Harbor - The Double Album, from The Bootleg Series: 'Elvis Presley In Person, Bloch Arena, Pearl Harbor - The Double Album' features all known recordings from and related to the benefit concert from March 25th, 1961 on one great new CD release. Newly remastered, unedited and complete! We wanted to present this concert in the best possible sound and as originally recorded, so including the accasionally microphone feedback which was part of the show (infact, Elvis reacts on this). And also as complete as possible, so including the complete radio broadcast 'Elvis Salutes The USS Arizona', the complete press conference and interviews, Elvis' arrival, and also the original released press conference excerpt as released on the album 'A Legendary Performer' and the 6 minutes long version of 'Hound Dog' as originally released for the very first time on the 1979 Pearl Harbor bootleg from Golden Archives.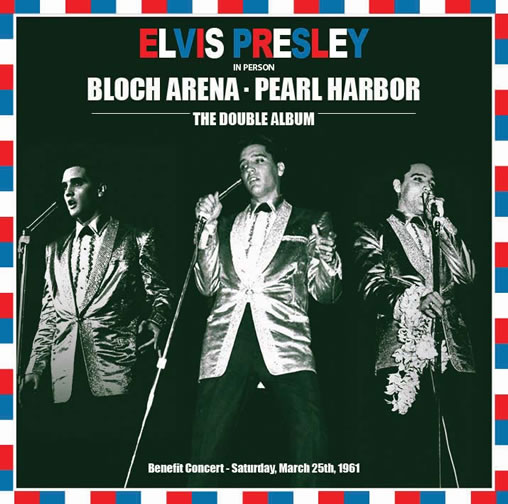 Disc 1: Elvis Live At Bloch Arena, Saturday, March 25th, 1961
01. Introductions
02. Heartbreak Hotel
03. All Shook Up
04. (Now And Then There's) A Fool Such As I
05. I Got a Woman
06. Love Me
07. Band introductions
08. Such a Night
09. Reconsider Baby
10. I Need Your Love Tonight
11. That's All Right
12. Don't Be Cruel
13. One Night
14. Are You Lonesome Tonight?
15. It's Now Or Never
16. Swing Down Sweet Chariot
17. Hound Dog
18. (There'll Be) Peace In The Valley (For Me) (Pearl Harbor memorial version)
Elvis Salutes The USS Arizona | Radio Broadcast
19. Introduction / Take My Hand, Precious Lord
20. Announcer / I Believe In The Man In The Sky
21. Announcer / It Is No Secret (What God Can Do)
23. Announcer / Milky White Way
24. Announcer / George Chaplin /
He Knows Just What I Need
25. Announcer / William F. Quinn / I Believe
26. Morley Theaker / Message From Elvis / Tribute To The USS Arizona / (There'll Be) Peace In The Valley (For Me) / Closing Announcements
Disc 2
01. Tom Moffatt talks with Colonel Parker and Elvis
02. Elvis arrives in Pearl Harbor
03. Press Conference at the Hawaiian Village Hotel
04. Interview by Tom Moffatt
05. Presentation of awards to Elvis (original edit from the album 'A Legendary Performer')
06. Hound Dog (extended live version)