We have additional and final info for the upcoming Rock Back the Clock CD. As Recorded live in Pontiac, Michigan, Silverdome, December 31, 1975/January 01, 1976.
The 'Straight Arrow' label will release the 2CD-set at the end of this year. Rock Back the Clock will be a special release of Elvis' first New Year's Eve show in Pontiac, Michigan.
The producers are aware that this concert was previously released from another source but in the case of this release, they were able to obtain an ORIGINAL TAPE recorded by the same person that taped the College Park, MD, 27.09.1974 using the same recorder and microphone.
That concert has been released on Straight Arrow's 2006 CD Chaos In College Park. The main reason for this new and ultimate Pontiac '75 release is that the sound quality is excellent for an off-line recording. Since no soundboard recording of this show exists, only audience taped documentation of this historic event is available. Over the last 15 years, three independent audience recordings were collected and on each source there was a major problem: excessive echo caused by the large stadium space.
This new source is very clear and most importantly, almost echo-free because the person with recorder was sitting very close to the sound system.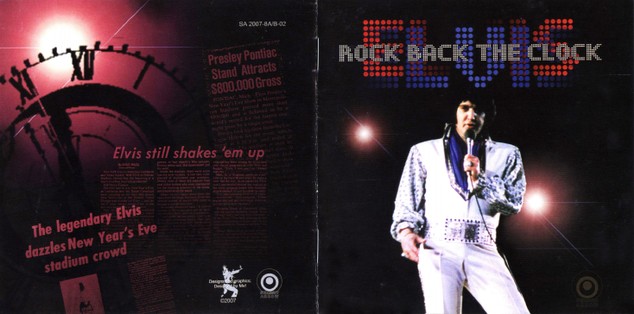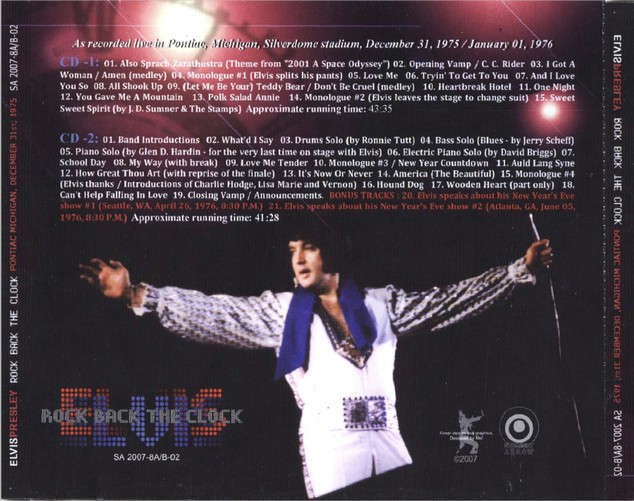 Also Sprach Zarathustra/See See Rider
I Got A Woman/Amen
Monologue
Love Me
Trying To Get To You
And I Love You So
All Shook Up
Teddy Bear/Don't Be Cruel
Heartbreak Hotel
One Night
You Gave Me A Mountain
Polk Salad Annie
Monologue [Elvis lascia il palco per cambiarsi i pantaloni]
Sweet Sweet Spirit [J.D. Summer & The Stamps Quartet]
CD 2:
Band Introductions
What'd I Say
Drums Solo (Ronnie Tutt)
Bass Solo (Jerry Scheff)
Piano Solo (Glen D. Hardin)
Electric Piano Solo (David Briggs)
Hail Hail Rock'n'Roll
My Way
Love Me Tender
Monologue (New Year Countdown)
Auld Lang Syne
How Great Thour Art
It's Now Or Never
America, The Beautiful
Monologue (introducing Charlie Hodge, Lisa Marie and Vernon)
Hound dog
Wooden Heart [accenno]
Can't Help Falling In Love
Closing Vamp/Announcements
Elvis speaks about his New Year's Eve Show in Seattle
Elvis speaks about his New Year's Eve Show in Atlanta