Elvis: Close Up 4 CD-Set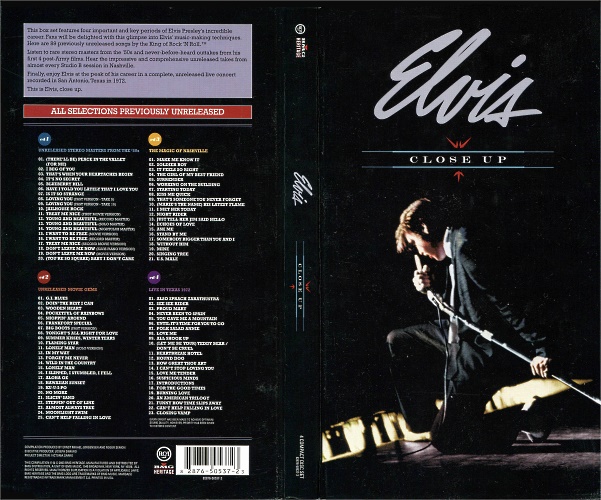 Let me start off by saying this set is a real winner, just for the stereo 50's master's alone. Although they say they are stereo they may very well be binaural but either way the sound leaps from your speakers. On the first disc we are treated to such Presley gems as, I Beg Of You, That's When Your Heartache Begins and three versions of Young And Beautiful. The highlight without a doubt is take 19 of the first version of Treat Me Nice. Although it is different from the version we all know, it is still very different from the movie version which is also included on here. Elvis just rocks his way through this gem, and the Jordanaires are very much included in the mix. This will be the highlight for most of you fans.
We also get the master of Jailhouse Rock from 4/30/57. There is a good amount of studio chatter and Scotty running over guitar licks. Elvis can be heard wondering how long he should keep singing the last line before they decide to fade out. It is a very long ending which just stops cold rather than the fade out that we all know. Again the sound is fantastic throughout. On your so square we have take 1 it is the same backing music but a different vocal. The vocal on this take is much looser and fun, I kind if like it more than the released version.
On to disc two. We get a good amount of songs from G.I. Blues, Wild In The Country, Blue Hawaii and two songs from Flaming Star. The G.I. Blues material, if you are a hardcore collector, really offers not much new, as the takes have been unofficially been released over the last few years. Although they list track seven Big boots take one fast version it is really the mid tempo version with the acoustic guitar backing. Take two of Flaming Star is new to my ears and Elvis sounds a little rushed singing it. The Wild In The Country songs are very nice but again nothing really new to my ears, but the sound makes them very enjoyable.
As far as the Blue Hawaii outtakes, Aloha Oe is short but very nice and the highlight without a doubt has to be take 6 of Slicing Sand. It is a very rocking version and Elvis almost gets through it until the last line when he sings the lyrics' sand in my toes sand in my hair sand in my sandwich Baby I Don't Care' he totally cracks himself up, I prefer these Elvis lyrics.
On disc three we get more of the Nashville sessions from '60 to '66 we have had so much of this in the past few months I will touch on the highlights. Take one of Make Me Know It almost sounds like the first note of music is missing. It comes in very fast. The version is very good being one of my favorite tunes I could never get enough of this song. We finally get take one of Night Rider from 10/15/61. It is nice to have this as an official release after all these years. Singing Tree take four the first version is very pretty, to me this has always been an underrated song.
That wraps up in a nutshell the first three discs now on to the one we have all been waiting for... disc four live in Texas 1972. We finally after 31 years get something good from Elvis on tour a complete concert. As you recall we saw clips of this show in the movie, Proud Mary, Never Been To Spain and Burning Love. However here is the entire show and in stereo sound to boot. Is the show anything really special" In a word no. But Elvis is in fine voice and the versions are very good. For The Good Times is a very nice version as well as the show stopping How Great Thou Art. Elvis hardly has any communication with the audience; this would come about two years later when he spoke about anything and everything. But the show is very enjoyable, it reminds me very much of the Madison Square Garden show from the same year, at which yours truly was present at the 6/10 matinee.
There you have it, Elvis Close Up. My thoughts are that it is a fantastic set. We could have had a little less Nashville and movie songs but I'm sure we will get more in the next months and years. The highlight for me is no question the 50's stereo master's they sound as if they were recorded yesterday. And it is also nice to have the On Tour Texas show in stereo.
All in all a very good set.
CD 1:
Unreleased Stereo Masters From The '50s
Matrix number: DISCTRONICS 82876505372 ONE 02 IFPI L502 IFPI 8731
(There'll Be) Peace In The Valley (For Me) (take 9 - master)
Beg Of You (take 11)
That's When Your Heartaches Begin (take 2)
It's No Secret (take 13)
Blueberry Hill (take 9 - master)
Have I Told You Lately That I Love You (take 15 - master)
Is It So Strange (take 12 - master)
Loving You (fast version - take 5)
Loving You (fast version - take 15)
Jailhouse Rock (master)
Treat Me Nice (first movie version - take 19)
Young And Beautiful (record master - takes 21,22)
Young And Beautiful (solo master - take3)
Young And Beautiful (nightclub master - take 7)
I Want To Be Free (movie version - take 12)
I Want To Be Free (record master - take 11)
Treat Me Nice (second movie version - take 13)
Don't Leave Me Now (Elvis piano version - first version)
Don't Leave Me Now (movie version - second version)
(You're So Square) Baby I Don't Care (take 1)
CD 2:
Unreleased Movie Gems
Matrix number: DISCTRONICS 82876505372 TWO 01 IFPI L503 IFPI 8727
Doin The Best I Can (take 10, 11, 12)
Wooden Heart (take 1)
Pocketful Of Rainbows (takes 15, 16)
Shoppin Around (takes 4, 5)
Frankfort Special (takes 4, 5)
Big Boots (fast version - take 1)
Tonight's All Right For Love (takes 14, 15)
Summer Kisses Winter Tears (take 2)
Flaming Star (take 2)
Lonely Man (solo version - take 3)
In My Way (take 2)
Forget Me Never (take1)
Wild In The Country (takes 1, 14)
Lonely Man (take 1)
I Slipped, I Stumbled, I Fell (takes 14, 15, 16)
Aloha-Oe (take 1)
Hawaiian Sunset (take 3)
Ku-U-I-Po (takes 6, 7)
No More (take 11)
Slicin' Sand (takes 6, 7)
Steppin Out Of Line (take 15)
Almost Always True (take 3)
Moonlight Swim (take 4 - edited)
Can't Help Falling In Love (takes 14, 15, 16)
CD 3:
The Magic Of Nashville
Matrix number: DISCTRONICS 82876505372 THREE 02 IFPI L502 IFPI 8749
Soldier Boy (take 10)
It Feels So Right (take 1)
The Girl Of My Best Friend (take 9)
Surrender (takes 5, 6)
Working On The Building (take 4)
Starting Today (take 1)
Kiss Me Quick (take 4)
That's Someone You'll Never Forget (take 7)
(Marie´s The Name) His Latest Flame (take 12)
I Met Her Today (take 16)
Night Rider (take 1)
Just Tell Her Jim Said Hello (take 4)
Echoes Of Love (take 8)
Ask Me (take 7)
Stand By Me (take 10)
Somebody Bigger Than You And I (take 15)
Without Him (take 8)
Mine (takes 8-9)
Singing Tree (first version - take 4)
U. S. Male (take 10)
CD 4:
Live In San Antone / Texas, April 18, 1972, ES
Matrix number: DISCTRONICS 82876505372 FOUR 01 IFPI L503 IFPI 8726
See See Rider
Proud Mary
Never Been To Spain
You Gave Me A Mountain
Until It's Time For You To Go
Polk Salad Annie
Love Me
All Shook Up
Teddy Bear / Don't Be Cruel
Heartbreak Hotel
Hound Dog
How Great Thou Art
I Can't Stop Loving You
Love Me Tender
Suspicious Minds
Introductions
For The Good Times
Burning Love
American Trilogy
Funny How Time Slips Away
Can't Help Falling In Love
Closing Vamp