WORK IN PROGRESS
THE GUITAR MAN ALBUM SESSIONS VOLUME 1
2 CD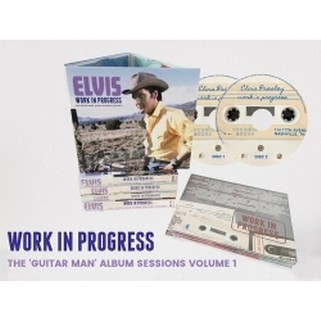 In 1980 Felton Jarvis, Elvis' record producer for the last decade came to the remarkable idea to freshen up some of Elvis' recordings. The idea was to add totally new backing tracks to Elvis' voice. This resulted in the 1981 record release of "Guitar Man".
You hate it or you love it is probably the right thing to say about the album.
Felton was convinced Elvis would have loved it. The original album contained 10 songs (which all can be heard in a wonderful newly remastered sound quality on this new 2 CD set). But Felton worked on a bunch of other songs to see if they would suit the project.
This special 2 CD set contains many of those unreleased versions that never made it to the record. Also included are some unreleased unfinished versions of tracks that did make it to the final GUITAR MAN album.
The title track "Guitar Man" written and first performed by Jerry Reed was obviously one of the tracks that had to end up on the album. Jerry Reed was part of the original recording by Elvis in 1967 and now Jerry Reed was back in the studio with Felton Jarvis to work on the new title track for the 1981 re-release. Besides the guitar work he also recorded a "duet" version of the song. This version never made it to the album, but it probably should have. Felton finished this track most likely for his own pleasure or for Jerry Reed and it is one of the many highlights of this set. This is just an example of one of the many surprises you will find on this CD set. And all in a wonderful sound quality.
This wonderful 2 CD set is full of unreleased tracks like : Blue eyes crying in the rain, The fool, Susan when she tried, Help me, Funny how time slips away and many many more.
Felton Jarvis sadly passed away early January 1981 even before the album came out.
WORK IN PROGRESS: "THE GUITAR MAN ALBUM SESSIONS volume 1" is now available.
DISC 1
THE ORIGINAL GUITAR MAN ALBUM:
01 GUITAR MAN [KWA5 8566]
02 AFTER LOVING YOU [KWA5 8571]
03 TOO MUCH MONKEY BUSINESS [KWA5 8556]
04 JUST CALL ME LONESOME [KWA5 8553]
05 LOVIN' ARMS [KWA5 8591]
06 YOU ASKED ME TO [KWA5 8558]
07 CLEAN UP YOUR OWN BACKYARD [KWA5 8572]
08 SHE THINKS I STILL CARE [KWA5 8564]
09 FADED LOVE [KWA5 8562]
10 I'M MOVIN' ON [KWA5 8557]
WORK IN PROGRESS
11 GUITAR MAN [KWA5 8566]
12 TOO MUCH MONKEY BUSINESS [KWA5 8236]
13 LOVIN' ARMS [KWA5 8247]
14 YOU ASKED ME TO [KWA5 8249]
15 SHE THINKS I STILL CARE [KWA5 8564] NO BACKING VOCALS
16 SHE THINKS I STILL CARE [KWA5 8564] WITH ORIGINAL BACKING VOCALS
17 I'M MOVIN' ON [KWA5 8246]
DUETS CREATED BY FELTON
18 GUITAR MAN [KWA5 8566] WITH JERRY REED MIX #1
19 HELP ME [KWA5 8555] WITH THE GATLIN BROTHERS
20 FOR OL' TIMES SAKE [KWA5 8238] WITH TONY JOE WHITE
TEASER FOR SECOND DISC
21 THAT'S WHAT YOU GET FOR LOVING ME [KWA5 8250] – VOCAL RAISED
22 HEY JUDE [KWA5 8237] – UNEDITED
23 GUITAR MAN [KWA5 8566] WITH JERRY REED MIX #2
WORK PARTS
24 SHE THINKS I STILL CARE [KWA5 8259] WORK PART
DISC 2
"MASTERS" NOT USED FOR THE GUITAR MAN ALBUM
01 HEY JUDE [KWA5 8237]
02 FOR OL' TIMES SAKE [KWA5 8238]
03 ONLY THE STRONG SURVIVE [KWA 8240]
04 BLUE SUEDE SHOES [KWA5 8242]
05 IN THE GHETTO [KWA5 8243]
06 SUSAN WHEN SHE TRIED [KWA5 8245]
07 SHAKE A HAND [KWA5 8248]
08 THAT'S WHAT YOU GET FOR LOVING ME [KWA5 8250]
09 FUNNY HOW TIME SLIPS AWAY [KWA5 8251]
10 BLUE EYES CRYING IN THE RAIN [KWA5 8252]
11 BITTER THEY ARE, HARDER THEY FALL [KWA5 8253]
12 I'LL HOLD YOU IN MY HEART [KWA5 8554]
13 HELP ME [KWA5 8555]
14 I'LL BE THERE [KWA5 8559]
15 THE FOOL [KWA5 8560]
16 BURNING LOVE [KWA5 8563]
17 IF YOU TALK IN YOUR SLEEP [KWA5 8565]
18 KENTUCKY RAIN [KWA5 8567]
19 LONG BLACK LIMOUSINE [KWA5 8573]
WORK IN PROGRESS
20 HEY JUDE [KWA5 8237] NO ECHO DIFFERENT MIX
21 IN THE GHETTO [KWA5 8243] NO BACKING VOCALS
22 SUSAN WHEN SHE TRIED [KWA5 8245] DIFFERENT MIX
23 IF YOU TALK IN YOUR SLEEP [KWA5 8565]
24 SUSAN WHEN SHE TRIED [KWA5 8245] – UNEDITED (DRY VOCALS)
25 KENTUCKY RAIN [KWA5 8567] – DIFF. MIX NO ECHO