Made In Memphis Vol. 2 CD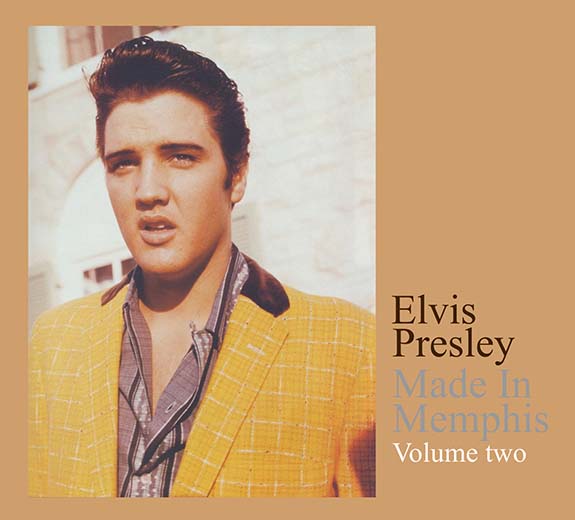 Some hard to find recordings recorded in Memphis Tennessee.
Includes live performances, informal recordings and some rare outtakes.
Just like the previous releases this one is "Ment to be played" and there are many nice and hard to find tracks on it for you to enjoy!
The set includes 6 alternate singles from all the sessions Elvis did in Memphis, plus recordings from 3 different concerts he gave at the Midsouth Colliseum.
Combined with some home recordings and informal tracks the set has just the right combination to be very different compared to other releases.
TRACKS:
Home Sweet Home/
When the Saints Go Marching In - 1034 Audubon Drive, December 1956
I'm Left, You're Right, She's Gone - take 2, take 6 - Sun Studios, March 5, 1955
Bill Monroe Medley: Little Cabin Home on the Hill/Summertime Has Past and Gone/
Christmas Time's A Coming/I Hear A Sweet Voice Calling/Sweetheart You've Done Me Wrong. - Sun Studios, December 4, 1956
Is It So Strange - Sun Studios, December 4, 1956
In the Ghetto - American Sound , Spliced take 10,11
Any Day Now - American Sound , take 1
Suspicious Minds - American Sound , undubbed master
You'll Think of Me - American Sound , take 22 (spliced with take 23 ending)
I've Got A Thing About You Baby - Stax Studio, take 1
Take Good Care Of Her - Stax Studio, take 3B
Promised Land - Stax Studio, Harmony vocal overdub
It's Midnight - Stax Studio, Harmony vocal overdub
Your Life Has Just Begon/Teardrops -1317Favell Drive, November 1973
That's All Right/Johnny B. Goode - Midsouth Colliseum, March 17, 1974
Let Me Be There - Midsouth Colliseum, June 10, 1975
Fairytale - Midsouth Colliseum, July 5, 1976
Hurt - 3764 Elvis Presley Boulevard, Rehearsal
For the Heart - 3764 Elvis Presley Boulevard, take 5B
Moody Blue - 3764 Elvis Presley Boulevard, take 3
She Thinks I Still Care - 3764 Elvis Presley Boulevard, take 14