The MxF label released its third special product called "Packing the Arena'' featuring both the shows performed from Elvis in Long Beach CA, Long Beach Arena on April 25, 1976. The 2.30 PM show is previously unreleased, while the 8.30 PM show has been previously released on CD ("California Wave" on Memory Records in 2009). However here is presented in very improved audio-quality so, We believe it is the right time for a proper re-release. After the successful Las Vegas Hilton comeback in December 1975, in spite a little bit overweight but with strong spirit, Elvis is ready to face his long tour activities of 1976 ….... The first tour started in the middle of March , a passable tour but nothing more..the man obviously is afflicted from a lot of problems …personal relationship, recording session and overall self-attitude destructive to life …. everything seems to go wrong .
This second tour confirmed the impression from the March concerts: Elvis was not looking after himself physically and artistically he was at a dead end. In spite the lack of renewal, in the repertoire are still included some strong numbers to make the concerts of a very good quality. In some of the more demanding artistically songs, Elvis builds his show, He is still able to find LIFE singing songs like You Gave a Mountain, America the Beautiful, How Great Thou art and last single Hurt. Without doubt this is the focus of the show and the audience appreciated that, making the concert atmosphere still incredible experience….
Talking about the concerts, both are solid with a few little variation of tracking list..in the evening one, Elvis performs three more songs : The life Anthem ; My Way, the religious ; Help Me and the fifty Rocker ; Blue Suede Shoes. Beside the focus of the show He still able to delivery in decent way, some of his classic rockers, Like Polk Salad Annie, Trying to Get To You and surprisingly in both the shows his best rocker in the seventies; Burning Love.
The sound is very good for an ambient recordings, considering that this kind of recording is coming from a big hall no the intimate Las Vegas showroom… We have on our hands the original mono tapes of extremely good quality enabling us to carry out a simple re-mastering work, concentrating on the reduction of noise trying to achieve a more clear sound balancing the channel and put at the right speed the tape. The result a pretty dynamic tapes with a great definition of the background music and for sure you can live the atmosphere of a Elvis' concert in the seventy.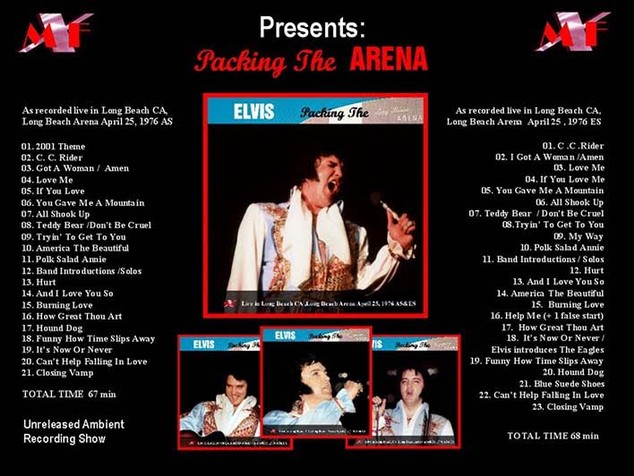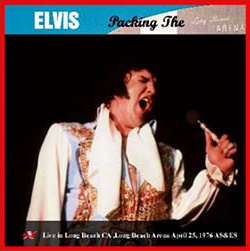 Tracklist
CD 1 time about 67.00 min
April 25 1976 (2:30 pm). Long Beach CA. Long Beach Arena
01. 2001 Theme 02. C. C. Rider 03. Got A Woman / Amen 04. Love Me 05. If You Love 06. You Gave Me A Mountain 07. All Shook Up 08. Teddy Bear /Don't Be Cruel 09. Tryin' To Get To You 10. America The Beautiful 11. Polk Salad Annie 12. Band Introductions /Solos 13. Hurt 14. And I Love You So 15. Burning Love 16. How Great Thou Art 17. Hound Dog 18. Funny How Time Slips Away 19. It's Now Or Never 20. Can't Help Falling In Love 21. Closing Vamp
CD 2 Time about 68,00
April 25 1976 (8:30 pm). Long Beach CA. Long Beach Arena
01. C. C. Rider 02. I Got A Woman /Amen 03. Love Me 04. If You Love Me 05. You Gave Me A Mountain 06. All Shook Up 07. Teddy Bear / Don't Be Cruel 08. Tryin' To Get To You 09. My Way 10. Polk Salad Annie 11. Band Introductions / Solos 12. Hurt 13. And I Love You So 14. America The Beautiful 15. Burning Love 16. Help Me (+ 1 false start) 17. How Great Thou Art 18. It's Now Or Never /Elvis introduces The Eagles 19. Funny How Time Slips Away 20. Hound Dog 21. Blue Suede Shoes 22. Can't Help Falling In Love 23. Closing Vamp