The E.P. Collector label is the import-release "Time Is Slipping Away - 25th March 1977". This concert was previously available on the CD-R "The Norman Request".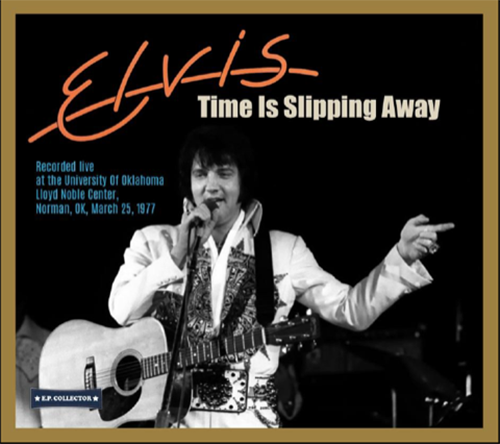 Recorded live at the University of Oklahoma Lloyd Noble Center, Norman, OK, March 25, 1977 Our first new release in 2020 is titled "Time Is Slipping Away" (EPC 2020-24) and it brings us the Norman, OK, March 25, 1977 show.
The title is inspired by the fact that Elvis he sings "Funny How Time Slips Away" very unusually as the 3rd song. The 2nd tour of 1977 was cut short due to Elvis illness, but some of the concerts were surprisingly good, especially the Abilene show on March 27th. In Norman, Elvis performs two solid and entertaining shows. Among the concert highlights are "You Gave Me A Mountain", "Little Sister", "My Way", "Fever" and "Hurt".
As the local press wrote, Elvis "The King" Presley delights audience in Lloyd Noble Arena. Note: After the February 1977 tour, David Briggs was replaced by Bobby Ogdin on electric piano and clavinet.
The audio was mastered from an original audience recorded cassette tape recorded by a British fan. This CD is packaged in a nicely designed digipack with local press review. All images used for the artwork were taken on March 25th, 1977 and they are previously unpublished!
Tracks: 01. Also Sprach Zarathustra (2001 Theme) - 02. C. C. Rider - 03. Medley: I Got A Woman / Amen - 04. Funny How Time Slips Away - 05. If You Love Me (Let Me Know) - 06. You Gave Me A Mountain - 07. Love Me - 08. Jailhouse Rock - 09. Medley: O Sole Mio (Sherrill Nielsen, with false start) / It's Now Or Never - 10. Little Sister - 11. Medley: (Let Me Be Your) Teddy Bear / Don't Be Cruel (medley) - 12. My Way - 13. Fever - 14. Band Introductions - 15. Early Mornin' Rain - 16. What'd I Say - 17. Johnny B. Goode - 18. Drum Solo (Ronnie Tutt) - 19. Bass Solo (Battle Of New Orleans - Jerry Scheff) - 20. Piano Solo (Tony Brown) - 21. Electric Piano Solo (Bobby Ogdin) - 22. School Day - 23. Hurt - 24. Hound Dog - 25. Can't Help Falling