The CD "Elvis - Hilton Showroom Volume 6" is a brandnew 2 CD Set. This time we have decided to release the Midnight Show from August 27, 1974 and it is the first time that this show is available on a "real" cd in its entirety. One day earlier (on the 26th) Elvis had to cancel both shows to virtually "stay in bed" because of the flu. He was definitely upset about this and has been heard saying "I would have not canceled a show but the doctors told me that I might get pneumonia again and put me in bed for several days". But just one day later - on the 27th - he was back again!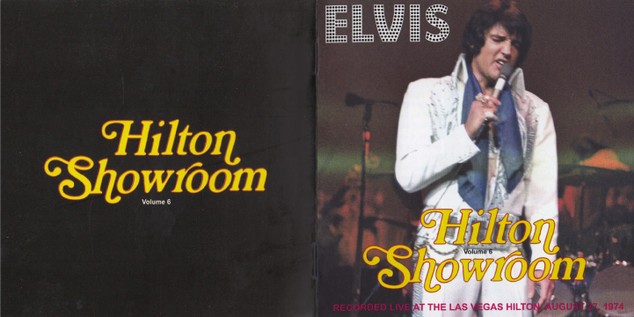 If you are familiar with Elvis´ engagement in August of 1974 you sure are "used" to a whole lot of unusual shows with a very talkative Elvis, who was really "upbeat" most of the time and sometimes (especially at the end of the engagement) even aggressive. Still, these shows were almost all very entertaining and definitely had their moments. Las Vegas newspapers announced the return of the "King" with the words "Elvis Presley continues his blockbuster two-week engagement in the main showroom of the Las Vegas Hilton with two shows every night at 8 p.m. and midnight. The gyrating, swivel-hipped superstar, now in his 11th Hilton appearance. is once again setting new attendance records at every show." Elvis Presley in 1974 was kind of an "undisputed" champion in terms of percentage of seats sold related to Las Vegas and the many performers who played there.
Please be aware that this new release is limited to 300 copies only! Be sure to get your copy if you are interested. Once you have it in your hands, we hope your spare time will allow you to sit back, put your headphones on and listen to the Midnight Show from August 27, 1974. It´s Las Vegas! It´s the Hilton Hotel Showroom! It´s ELVIS! Enjoy!
Tracklisting: 27.08.1974 Midnight show:
CD1
01. Also Sprach Zarathustra
02. C. C. Rider
03. I Got A Roman / Amen (medley)
04. Love Me
05. If You Love Me (Let me Know)
06. It's Midnight
07. Big Boss Man
08. Fever
09. Love Me Tender
10. All Shook Up
11. The Wonder Of You
12. Softly As I leave You
13. Hound Dog (with reprise)
14. You Gave Me A Mountain
15. An American Trilogy
CD2
01. Band Introductions / monologue
02. We Shall Overcome (excerpt) / If You Talk In Your Sleep
03. Introduction of Red West and Kang Rhee
04. Why Me Lord
05. Teddy Bear / Don't Be Cruel (medley)
06. Hawaiian Wedding Song
07. Let Me Be There (with reprise)
08. Monologue
09. It's Now Or Never
10. Can't Help Falling In Love
11. Closing Vamp
Bonus (August 29, 1974 Dinner Show):
12. How Great Thou Art
13. Early Morning Rain