You Know, My Bass Man Is Bound To Die
Ampex is proud to present You Know, My Bass Man Is Bound To Die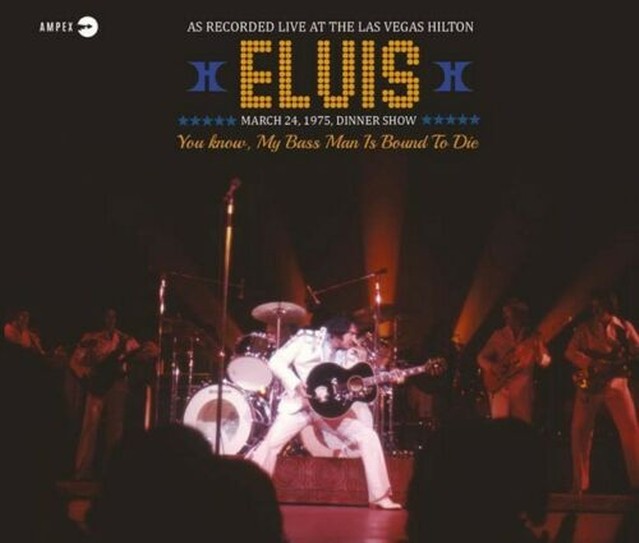 After taking a break, we invested in getting you a brand-new concert, recorded on March 24th, 1975, during the dinner show. This show has never been released and comes in a great ambience sound quality. Elvis is very loose and has a ball with his audience and band members. Opening in Las Vegas on March 18th, Elvis presented a rejuvenated show to his audience. Some of his classics like 'Teddy Bear' / 'Don't Be Cruel', 'Love Me', 'Hound Dog' and 'I Got A Woman' / 'Amen' would remain, but his show consisted mostly of recently recorded material, some of it only a week old!
Elvis performed 'Green Green Grass Of Home', 'Fairytale' and 'And I Love You So' from his still to be released album Today. 'Promised Land' would be sung on a regular basis whereas it was only performed a couple of times the year before. It would also find itself a different arrangement being closer to the studio master with James Burton's electric guitar front and center. 'My Boy', which was first introduced in the August-September 1973 season before disappearing from the setlist, would make a comeback during this season but was now performed much more confidently with Elvis taking risks on the high notes near the end. Be sure to listen to the version included on this CD, as Elvis takes it up a notch more than usual! All in all, Elvis was back on track for the time being, reinvigorated, and giving professional and joyful shows night after night.
The March 24th dinner show is well worth having in your collection, with Elvis joking with his fellow band members - most notably J.D. Sumner - as Elvis jokes, 'I've been with JD Sumner since I was 16 years old. He's the world's oldest bass singer; no, I'm kidding, he's the world lowest bass singer!' Also, during 'Trilogy', Elvis still can't seem to contain himself as he jokingly sings, 'You know, my bass man is bound to die!'
'Burning Love' and 'I'll Remember You' - which were re-introduced during this season after a two-year hiatus - were left off during this show with Elvis opting to do 'Green Green Grass Of Home' instead, a song which wasn't sung too often during the season and would soon disappear from his setlist.
We've included the March 19th dinner show pre acts on disc 1, to give you a full overview of the Elvis Presley show as recorded from the soundboard.
Be sure to pick-up this digipack, filled with newly acquired photos, newspaper reviews and a list of songs performed during this season. And watch this space, as we'll also be releasing the unreleased midnight show very soon!
Ask your dealer for samples!
Disc 1: Pre-Acts - March 19, 1975, DS
01. Joe Guercio's Orchestra Opening 01:33
02. Voice Introduction / Goin' Back To Memphis 03:04
03. Into The Father's House / Closing 03:03
04. Philadelphia Freedom 03:45
05. Introductions of The Sweet Inspirations - Stevie Wonder Medley:
Stevie Is A Wonder / For Once In My Life / You Got It Bad Girl / Superstition
/ You Are The Sunshine Of My Life / Livin' For The City /
All In Love Is Fair / Higher Ground / Closing 07:43
06. Jackie Kahane's Comedy Act 24:02
Disc 2 - The Main Event - March 24, 1975, DS
01 Also Sprach Zarathustra 1:03
02 See See Rider 3:13
03 I Got A Woman / Amen 6:05
04 Love Me 2:34
05 If You Love Me (Let Me Know) 2:50
06 And I Love You So 3:26
07 Big Boss Man 2:32
08 It's Midnight 3:01
09 Promised Land 2:43
10 Fairytale 3:10
11 Band Intros 7:07
12 My Boy 3:52
13 Green Green Grass Of Home 3:24
14 Let Me Be There 3:22
15 Teddy Bear / Don't Be Cruel 2:33
16 Hound Dog (incomplete) 0:53
17 An American Trilogy 03:52
18 Can't Help Falling In Love / Closing Vamp 2:21