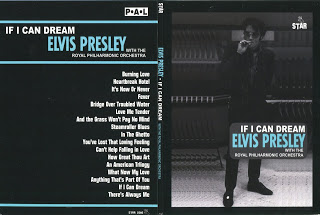 IF I CAN DREAM – ELVIS PRESLEY With the Royal Philharmonic Orchestra DVD
Elvis fans wake up… this is NOT a dream….
STAR Is back, presenting the most innovating release since "Viva Elvis"
"IF I CAN DREAM – ELVIS PRESLEY With the Royal Philharmonic Orchestra"
An incredible release, where hours and hours where put into research for new ideas creating an exceptional feel which fits the audio perfectly!
Many clips have a "split screen" feature, where the typical STAR "storytelling" clips look even better. All audio is 100 procent in synch with the footage!
The whole program is presented in "Black and White", and it works!
PRESENTED IN FULL WIDESCREEN and releases in DIGIPACK DELUXE!
STAR needs no further introduction, so lets find out what to expect:
BURNING LOVE: The opening blows you away, and you get right into the mood, footage of Elvis AND the R.P.O. is combined to create a new rocking experience!
HEARTBREAK HOTEL: previously unreleased for non U.K. buyers, this clip shows early footage and pictures of our man on stage as well as in the studio, this is the first a "split screen" clip.
IT'S NOW OR NEVER: Star took a risk here, using the 1977 version for the footage, but due to the overall "Black and White" feature, the did a pretty good job here!
FEVER: What can we say about this .. WOW!! An outstanding job has been done on this clip.. it all makes sense; from the opening bars, featuring an actual trumpet player, right to the end this is fabulous! Footage from both Elvis as Michael Buble has been used, and this is one of the many highlights of the release. Another "split screen" clip.
BRIDGE OVER TROUBLED WATER: August 11, 1970 D.S. footage has been re-done to make an enjoyable clip, totally in synch.
LOVE ME TENDER: Presented in "split screen" again, this tells the love story of Elvis and Priscilla, from the army years right down to when she's being carried over the threshold!
AND THE GRASS WON'T PAY NO MIND: "The moment we're living Is now" … lets go back in time, and enjoy the many relaxing moments of the couple in their most private times, again in split screen, making it more alive when seeing multiple angles of the same events.
STEAMROLLER BLUES: Time to rock now! Footage from both Aloha shows combined to one hell of a performance!
IN THE GHETTO: Great "TTWII" live performance edited to perfection! Watch out for Elvis "Vicious Circle" stance at the beginning and end… it's a loop …
YOU'VE LOST THAT LOVING FEELING: Another "TTWII" live performance edited to perfection, just watch the ending and try to find out what has been used to make it fit!
CAN'T HELP FALLING IN LOVE: Nice! Elvis "tribute" to Lisa Marie, goes beyond time, footage of young Lisa, older Lisa and Lisa "now" shows a very moving clip, at the end please take a look at how much she looks like daddy. The "split screen" feature works like magic, with lots of interaction.
HOW GREAT THOU ART: This heavenly clip combines Elvis with "Divine" footage, this will blow you away, and shows again the creativity of the producers. "split screen"
AN AMERICAN TRILOGY: Elvis story is being told here, matching the words of the song… "Where I was born" shows Tupelo… "Daddy's bound to die" shows Elvis in his last tour… and then after the drama … we're being showed Elvis is eternal, Number One Hits, Live shows after his death, and a new Guesthouse proves, … "His truth is marching on" ("split screen")
WHAT NOW MY LOVE: "Now that you left Me (us)" Very moving footage of Elvis singing the song combined with footage of the funeral… "No one would care… no one would cry… if I should live or die" mmmm…. Watch the footage!
ANYTHING THAT'S PART OF YOU: The fans "Go all the places, that he went" nice short clip from a fans point of view, trying to hold on to the King.
IF I CAN DREAM: Title track of the dvd, the producers used the "Stand Up" versions on this, with lots of nice new edits ending in the White Suit.
THERE'S ALWAYS ME: How right he was and still is, "When you're lonesome for a friend" THERE'S ALWAYS ELVIS! Lots of rare footage is used again to "tell" the story of the song… although no footage excist of Elvis actually singing it… it sure looks like it in this final clip! ("split screen")
Throw in some extra "Trailers" and "Behind the Scenes" and you'll have an incredible new STAR release , over one hour of BRANDNEW edits, will leave you wanting more… It's impossible to get all its features in one watch… but guess what… just press "Play" and you can see it again… and again… and again……