40 GREATEST!
2 CD SET
The legendary PINK ALBUM is now available on a deluxe double compact disc set.
Elvis' 40 Greatest, originally released (on Arcade) in 1974 and UK's biggest-selling album over the Christmas period of that year, but along with all albums on K-tel, Ronco and Arcade, it was ineligible for the UK Albums Chart until 1975 because it was felt that heavy TV advertising and low pricing distorted the charts. It finally reached number one on the UK Albums Chart in 1977, and became the 10th best-selling album of the 1970s in the UK. It was originally pressed with a brown cover and doctored image of Elvis.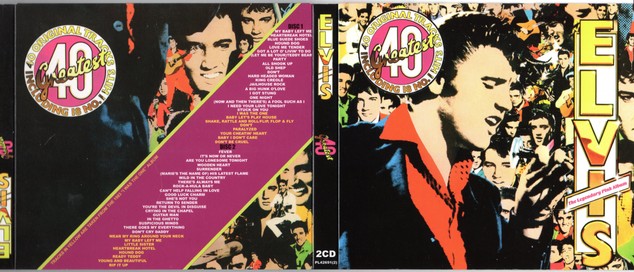 The 1978 re-release, was released simultaneously on black vinyl and a more expensive pink vinyl edition. The pink vinyl sold a stagger 250.000 copies MORE than the black vinyl. It is in fact one of the best selling Elvis compilation albums of all time.
Both the original 1974 Arcade and the 1978 pink RCA re-release were, despite its success, never released on compact disc.
But the waiting is over: housed in a stunning 6 panel digipack, Elvis' 40 GREATEST contains the 40 original masters from the 1978 album + as very special bonus tracks are added the original tracks from the 1983 UK edition of the "I WAS THE ONE" album, that contained overdubbed live and studio recordings from the 1950s and early 1960s. These recordings have never been released officially on compact disc.
COMPACT DISC 1
01. My Baby Left Me
02. Heartbreak Hotel
03. Blue Suede Shoes
04. Hound Dog
05. Love Me Tender
06. Got A Lot O'Livin To Do
07. Teddy Bear
08. Party
09. All Shook Up
10. Old Shep
11. Don't
12. Hard Headed Woman
13. King Creole
14. Jailhouse Rock
15. A Big Hunk O Love
16. I Got Stung
17. One Night
18. A Fool Such As I
19. I Need Your Love Tonight
20. Stuck On You
FROM THE 1983 I WAS THE ONE ALBUM:
21. I Was The One
22. Baby Let's Play House
23. Shake, Rattle And Roll / Flip, Flop And Fly
24. Don't
25. Paralyzed
26. Your Cheatin' Heart
27. Baby I Don't Care
28. Don't Be Cruel
COMPACT DISC 2
01. Fever
02. It's Now Or Never
03. Are You Lonesome Tonight
04. Wooden Heart
05. Surrender
06. His Latest Flame
07. Wild In The Country
08. There's Always Me
09. Rock-A-Hula Baby
10. Can't Help Falling In Love
11. Good Luck Charm
12. She's Not You
13. Return To Sender
14. You're The Devil In Disguise
15. Crying In The Chapel
16. Guitar Man
17. In The Ghetto
18. Suspicious Mind
19. There Goes My Everything
20. Don't Cry Daddy
FROM THE 1983 I WAS THE ONE ALBUM:
21. Wear My Ring Around Your Neck
22. My Baby Left Me
23. Little Sister
24. Heartbreak Hotel
25. Hound Dog
26. Ready Teddy
27. Young And Beautiful
28. Rip It Up