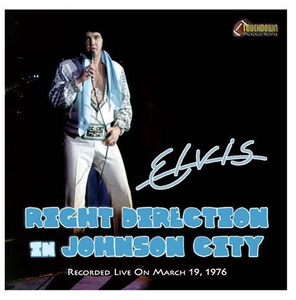 Elvis Presley - Right Direction in Johnson City CD
For our last CD "Atlanta Loves Elvis" we selected one of the best Shows from his last Tour in 1976 and for our new CD we will stay in the same Year.
This time we decided to take a show from Johnson City from his first Tour in 1976. With "Right Direction In Johnson City" we present you his show from the 19th of March 1976.
Again it`s an Audience Recording and the quality is really good for this kind of recordings.
With no doubt this show is the best from his first Tour that year and for sure also one of the best of the whole year. The performance of Elvis is on the same level as the one from his last tour and the Set list is excellent.
The CD has a duration of 79 Minutes and four seconds.
[01] Also Sprach Zarathustra (0:40)
[02] See See Rider (3:34)
[03] I Got A Woman/ Amen (8:52)
[04] Talk With The Audience (1:02)
[05] Love Me (2:57)
[06] You Gave Me A Mountain (3:36)
[07] If You Love Me (Let Me Know) (3:20)
[08] Steamroller Blues (2:56)
[09] All Shook Up (1:23)
[10] Teddy Bear/Don't Be Cruel (2:04)
[11] Talk With The Audience (0:42)
[12] Heartbreak Hotel (1:47)
[13] Love Me Tender (2:57)
[14] Polk Salad Annie (with false start) (5:08)
[15] Band Introductions (2:24)
[16] James Burton Guitar Solo (0:39)
[17] Larry Londin Drum Solo (1:14)
[18] Jerry Scheff Bass Solo (incomplete) (1:45)
[19] Shane Keister Piano Solo (1:14)
[20] David Briggs Electric Clavinet Solo (1:22)
[21] Joe Guercio Orchestra (1:06)
[22] And I Love You So (3:39)
[23] Until It's Time For You To Go (2:46)
[24] Hurt (2:28)
[25] Hound Dog (1:31)
[26] How Great Thou Art (3:18)
[27] That's Alright, Mama (3:01)
[28] Talk With The Audience (0:31)
[29] Funny How Time Slips Away (4:41)
[30] Burning Love (3:08)
[31] Can't Help Falling In Love/ Closing Vamp (3:05)
Total Playing Time: 79.04 min.