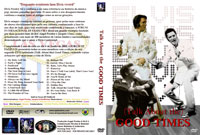 Elvis Presley - Talk About The Good Times DVD
26 Elvis video clips thru the years. 75 minutes entertainment.
DVD Tracklist:
My Baby Left Me
Such A Night
Paralyzed
Something Blue
The Next Step Is Love
I´ll Never Fall In Love Again
Memories
Always On My Mind
Wear My Ring Around Your Neck
I´m Coming Home
A Fool Such As I
A Little Bit Of Green
The Wonder Of You
Release Me
Lawdy Miss Clawdy
Baby Let´s Play House
Runaway
Have I Told You Lateley That I Love You?
It´s So Strange
You´LL Think Of Me
The Power Of My Love
I Was The One
Soldier Boy
Talk About The Good Times
It´s Your Bayby You Rock It
You´re The Boss