Elvis Presley In Concert June 1977 DVD The CBS Special

1 DVD - running time aprox. 50 mins
The 1977 CBS TV Special is in perfect quality, a very special treat for fans. For the first time ever, using a 1st Generation digital copy of a TV Station tape, (originally used to broadcast 'The Special' in October 1977) it has been re-mastered frame by frame and now finally, released to fans to watch this in all its glory!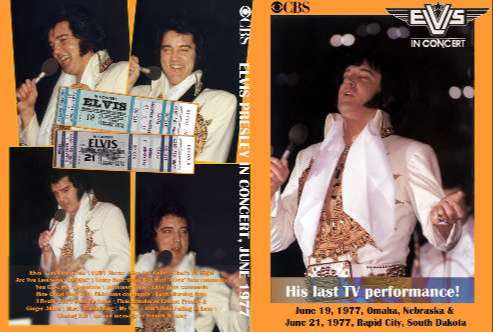 Elvis Presley In Concert June 1977 DVD The CBS Special
Content:
Elvis fans' comments/opening vamp
Introduction/Also Sprach Zarathustra
See See Rider
That's All Right
Are You Lonesome Tonight?
Teddy Bear/Don't Be Cruel
Elvis fans comments
You Gave Me a Mountain
Jailhouse Rock
Elvis fans comments
How Great Thou Art
Elvis fans comments
I Really Don't Want To Know
Elvis introduces his father, Vernon, and his girlfriend Ginger Alden
Hurt
Hound Dog
My Way
Can't Help Falling in Love
Closing Vamp
Final message from Vernon Presley
Elvis Presley In Concert June 1977 DVD The CBS Special

The 1977 television special Elvis in Concert, which was shot during Elvis' last concert tour in June of 1977 (not the last concert itself as Vernon Presley stated at the end of the special) aired a couple of times on network television and parts of it, and additional footage shot during the production of it, have been used in various television and video documentary projects over the years. However, much to the disappointment of a number of fans, we have no plans for releasing a home video of the Elvis in Concert material at this time.
Because of the severity of Elvis' health problems at the time the special was shot, Elvis was far from his best in the way he looked and the way he performed, though there are some truly brilliant moments in the footage. The true fans look at this through the eyes of love, respect, and understanding, and see the great historical value - as do all the members of our staff. But, this not so with much of the general public and the media. It's not that we don't want the fans to have this footage or that we don't know how much it would mean to them. We do. There just simply is no way to get it only to the real fans (and we've exhausted all kinds of ideas) without also having Elvis served up to the general public and press for ridicule. They already emphasize and exaggerate the tragedy and sadness of the last years of his life too much.
Right now, the emphasis for us is to remind them of all that came before.
We receive many calls, letters, and E-mails from fans pushing for us to release this footage on home video. There is not a single argument in favor of our releasing it that has come from fans that haven't come up amongst our management team. We talk about it at length periodically. Up to now, some members of the management team who decide these things have not become comfortable with releasing it. Perhaps that could change someday. For now, our position remains as explained herein. 'Not now' does not necessarily mean 'not ever'. We'll see. In the meantime, we truly understand, respect and appreciate and share on so many levels the feelings of those fans who want the 1977 material released.
In the meantime, we continue to use clips from the 1977 special as appropriate for historical context and completeness in documentary projects and exhibits.
Elvis Last Tour June 1977

Before this tour Elvis had actually called president J. Carter to try to help out his friend George Klein in a federal court case. This was on June 13. The day after Carter called Elvis at 5:18 PM, but reluctantly gave up after approx. 10 minutes when he could not understand Elvis' incoherent conversation. Elvis called Carter again, but this time the president refuse to answer the phone.
On June 18 Elvis held a concert in Kansas City. This concert is featured on the bootleg video The Last Tour. The quality is very good considering that it is amateur footage. The version of 'Are You Lonesome Tonight' is quite funny, with Elvis and Charlie Hodge doing their "act" on stage...
Then it was time for the CBS crew to record and film Elvis in Omaha, Nebraska. This concert is described as one of the poorest ever held by Elvis. In general that is true. Elvis was very out of focus and had probably taken too many "downers". He was sluggish, from the moment he went on the stage to the final song. Elvis looses the lyrics in the beginning of 'Are You Lonesome Tonight', he is off-key in 'I Really Don't Want To Know', while 'Hurt' is amazingly well performed...

This concert was released simultaneously by two different labels. Captain Marvel Jr. on their Candid Elvis On Camera and Ecolorado on their As I Leave You. Because the microphone system in Omaha was out of proper order in the beginning of the concert, and the fact that Felton Jarvis decided not to record the band, the sound quality is not the greatest. This show is featured in it's completeness on the bootleg version of 'Elvis In Concert' (The CBS Tapes).
In Lincoln after the show, Elvis sat in his bed in his pajamas asking Joe Guercio "Well, what do you think?". Joe said "It was a fair dress rehearsal", to which Elvis replied "Yeah, you're right". According to Ed Parker Elvis was not too happy about the situation before the concert in Omaha. The stadium was crowded with people and cameras. He said to Ed "How come I get placed in these situations?". Looking out of the window, biting his lip he said "Ah...hell, I guess it's show business!"
The evening after the show in Omaha, Elvis immediately traveled to Lincoln where he slept over night (well...did he really..?). The day after Elvis held a concert in the "little" Pershing Municipal Auditorium (7.500 attendants). This day he performs one of the better versions of 'Unchained Melody' I have heard. Even 'Hound Dog' is given some extra attention this day.
Rapid City, South Dakota was next. From this concert the majority of CBS' "Elvis In Concert" was taken.
The CBS crew: "We picked Rapid City for filming because it was Elvis' first concert in that hall. He'd never been to Rapid City before. We wanted to avoid any possible audience disappointment over him being overweight"
Good choice from CBS, as Elvis in Rapid City managed to perform one of his better "1977-concert". It was a totally different Elvis appearing on stage, compared to two days earlier. Story has it that Elvis took many tablets of Ionamin, his favorite appetite depressant. At least Elvis was much "trimmer" in Rapid City, than only two days later.
As always when Elvis was in good spirit he delivers a good version of 'See See Rider'. This day too. In fact Elvis stopped the song, just to say that someone did a mistake... and then began sing as if nothing had happened. A strange moment, really. Elvis was filmed by CBS and he manages to find an unnoticeable error, and stops the band... This incident was cut from the official version of "Elvis In Concert" (where they edited in snippets of Elvis singing the same song in Omaha) and also edited out this sequenze on the album with the same name.
After his regular I Got A Woman/Amen "session", Elvis performs a very good version of 'That's Allright', and a (just almost) funny, still good 'Are You Lonesome Tonight'. 'Love Me' is a very good version, and the same goes for 'If You Love Me'. 'Trying To Get You' is share dynamite! For some strange reasons CBS decided to omit this masterpiece in their one-hour production. Like 'My Way' and 'Little Sister', Elvis always performed 'Trying To Get To You' with bravura. At least CBS included 'My Way' on the TV-Special.
Another highlight that CBS omitted from this show was 'Hawaiian Wedding Song'. Elvis had complete control over his voice and this version is better than others I have heard from 1973 - 1975.
'Early Morning Rain' was first omitted from the TV-Special, but at the end included. On the TV-Special CBS used the version from Omaha, while the Rapid City version (the better one) was used on the LP album.
'I Really Don't Want To Know' was included on both TV and LP special. Elvis started singing this song only 3 weeks ago, and it is a kind of song that really fitted Elvis' voice and overall condition at the time.
There is no doubt that Elvis was influenced by another type of medication than in Omaha. In Omaha he was "sluggish", while he in Rapid City was...well "rapid". Due to this, Elvis has some problems completing sentences. During the introduction of J. D. and The Stamps, Elvis tries to tell the audience that he used to watch J. D. sing together with the Statesmen in his early days, but it is very difficult to catch exactly what he says.
After the concert in Des Moines, June 23, Ronnie Tutt leaves the band for good. He is replaced with Jerome Monroe (June 24) and Larrie Londin (June 25 and 26). In Madison, June 24 Elvis sings 'One Night' for the last time.
While driving to Madison, Elvis stops the car so he could get out to assist a gas station attendant who is set upon by two youth. The fight came to a sudden end, as the two youth was shocked by the fact that Elvis Presley stood in front of them. The whole scene ended with Elvis getting them to shake hand, promise not to fight anymore, and finally a picture taken of all three. (From the newspaper)
Before the concert in Cincinnati, Elvis finds out that the hotels air-condition does not function! Elvis immediately leaves for another hotel, which was not easy since most the accommodations where taken... Elvis was in town!
The concert in Cincinnati was released on a very rare bootleg called Since Cincinnati. In my point of view this concert is among the best in 1977. Elvis does very good versions of 'See See Rider', and 'If You Love Me' among others. For the last time Elvis performes 'Unchained Melody'. This is one of the best versions I have ever heard!
Since Cincinnati was re-released in 2007.
Arriving the airport in Indianapolis on June 26, Elvis is presented with a plaque for the "Moody Blue" album.
Elvis' very last concert is one of the longest ever in 1977. It features several "rare" songs for the year, and in general it is a fair concert.
Many Elvis fans find this to be one of the best concerts in 1977, but I can't agree to that. Elvis is way out some places, and he has problems completing both songs and sentences.
(John Wilkinson, July 1, 1977)
# "We played in Indianapolis three times....But the last one was really good. The place came unglued, like they were really glad to see him. It was a dynamite show, rock and roll all the way. But he looked whipped when he came around the corner to get off the stage at then end of the show. He really looked tired"
The concert in Indianapolis has been released on several bootlegs through the years. The best one so far is Adios, The Final Performance. Elvis performs a few "unregular" songs on this concert, like 'Bridge Over Troubled Water', 'Release Me' and 'I Can't Stop Loving You'. Unfortunately there was no place for 'Unchained Melody' this evening, although the concert in Indinapolis is one of the longest ever performed in his lifetime.

DVD Elvis Presley In Concert June 1977 DVD The CBS Special