Out In Hollywood Vol. 3 CD

Hard to find outtakes and new edits, presented in a deluxe digipack edition.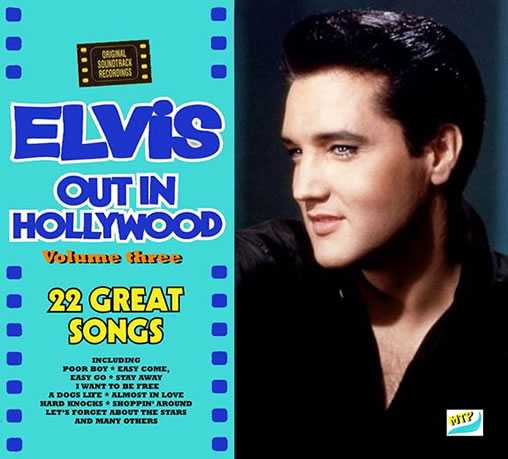 Another collection of 22 great songs, most are hard to find, or released on cds where you get so many takes of the same song, you probably only have heard them once, or more likely... never. Also included are some cool UNRELEASED tracks like "Poor Boy" which is an alternate master and "Stay Away" which has the harmonica intro followed by the master take, the sound is much better then the actual movie version.
1. Poor Boy - Spliced take 1 (remake), 3
2. I Want To Be Free - take 10 (prison version)
3. Loving You - take 16 (end version)
4. Cross My Heart and Hope To Die - take 8
5. This is Living - take 8
6. Hard Knocks - take 4
7. Easy Come, Easy Go - take 10
8. Vino, Dinero Y Amor - take 4
9. Drums of the Islands - take 2 (AOV)
10. Anyone - take 2
11. Summer Kisses, Winter Tears - take 16
12. Shoppin' Around - take 14 (finale version)
13. The Bullfighter Was A Lady - take 14
14. Kissin' Cousins #2 - take 4
15. Night Life - take 11
16. Take Me To the Fair - take 7
17. A Dogs Life - take 7 (EOV)
18. Almost in Love - take 6
19. Wisdom of the Ages - take 2
20. Stay, Away - Alternate Master
21. Let's Forget About the Stars - Rough mix
22. Let Us Pray - Vocal Only