Looked Into The Wings
Our second CD is titled "Looked Into The Wings" (label E. P. Collector, catalogue number EPC 2018-16).
October tour was another good one, after several problematic tours in the Summer. Elvis lost some 10-12 kilos and he was able to wear his jumpsuits from 1974 again. He looked much healthier and he was in good mood and in solid voice.
We have released Elvis' last Kalamazoo concert from April 26, 1977 in 2017. Now we have decided to release its prequel. We had complete original tape of this show in our vaults since late 90s, but we have considered it not so good for release because Elvis was distant and wild audience reaction too prominent. Now new tape turned out, of much better sound. Unfortunately, new tape was incomplete and middle part was repaired using our old source. As usual, you may ask your supplier for samples.
Playlist is rather typical for Autumn '76 shows. Among the concert highlights there are " Help Me", "And I Love You So", "America (The Beautiful)", "Love Letters", "Hurt" and "Blue Christmas".
This CD is packaged in a nicely designed digipak, too. Since there were no suitable photographs from the Kalamazoo performance, all images used for this project were taken in Cleveland, Ohio just two days later, on the 23rd where Elvis wore the same 'King of Spades' jumpsuit.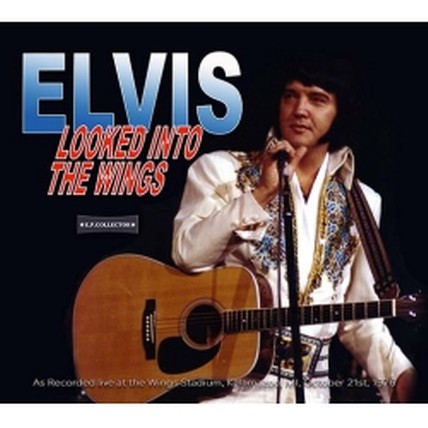 Tracklist:
01. Also Sprach Zarathustra (2001 Theme) - 02. C. C. Rider - 03. medley: I Got A Woman / Amen - 04. Love Me - 05. If You Love Me (Let Me Know) - 06. You Gave Me A Mountain - 07. Jailhouse Rock - 08. Help Me - 09. All Shook Up -10. medley: Teddy Bear / Don't Be Cruel - 11. And I Love You So - 12. Fever - 13. America (The Beautiful) - 14. Band Introductions - 15. Early Mornin' Rain - 16. What'd I Say - 17. Johnny B. Goode - 18. Drum Solo (Ronnie Tutt) - 19. Bass Solo (Blues - Jerry Scheff) - 20. Piano Solo (Tony Brown) - 21. Electric Piano Solo (David Briggs) - 22. Love Letters - 23. School Day - 24. Hurt (with reprise) - 25. Hound Dog - 26. Blue Christmas - 27. Can't Help Falling In Love - 28. Closing Vamp & Announcements.
(audience recording)