Live In Philadelphia
Out now is a new CD from the Ampex label that is the follow-up to last years ''Kickin' It Down In Baltimore''
with our new release ''Live In Philadelphia'' we present you the show Elvis gave on November 8, 1971 in Philadelphia, PA.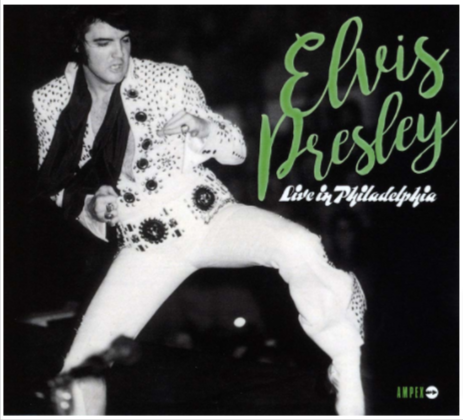 Elvis gave a stunning show at the Spectrum with reviews citing ''16,000 Scream as Presley Brings Back Rock and Roll'' and he did bring back Rock and Roll!
This show had everything an audience member could hope for with classics such as ''Heartbreak Hotel ''One Night'' ''Are You Lonesome Tonight''
among more recently recorded material like ''You Don't Have To Say You Love Me'' ''You've Lost That Lovin' Feeling'' and even gospel with ''How Great Thou Art''.
Joining Elvis for one night only during this performance was Sweet Inspirations drummer Jerome ''Stump'' Monroe and while Jerome was unprepared he gave a different vibe to most of these songs,
Jerome would fill in for Ronnie Tutt on a couple of occasions during the 70's (December 7, 1975 Las Vegas, NV and June 24, 1977 in Madison,WI).
Also during this show Elvis was backed by a 15-piece orchestra consisting of local musicians led by conductor Joe Guercio.
Here we present a brand new source for the show, unfortunately the person who recorded the show ran out of battery near the end of ''Bridge Over Troubled Water'',
we didn't want to present an incomplete show here due to the rare performance of ''The Impossible Dream'' so we decided to splice it and tag the rest of the show on from a second source to complete it.
This release should not be missed as it this digipack contains stunning photos taken during the show and Elvis show in Philadelphia ranks among one of his finest from the 1970's.
Also Sprach Zarathustra
That's All Right
I Got A Woman
Love Me Tender
You Don't Have To Say You Love Me
You've Lost That Lovin' Feelin'
Polk Salad Annie
Johnny B. Goode
Love Me
Heartbreak Hotel
Blue Suede Shoes
One Night
Hound Dog
How Great Thou Art
Introductions
Lawdy Miss Clawdy
Are You Lonesome Tonight
Bridge Over Troubled Water**
The Impossible Dream*
Suspicious Minds*
Can't Help Falling In Love / Closing Vamp*
** spliced with second source
* second source