TOLEDO: SATURDAY NIGHT
A BRAND NEW MATRIX RECORDING MIX!
Let's first explain the phenomenon "Matrix Recording". A Matrix recording mix is a cunning mix of soundboard/multitrack recordings with audience recordings. Sometimes soundboard recordings can sound dull. The main reason for this is that the sound engineer probably wanted to catch one particular aspect of the performance. This can be the singing voice of the artist, or one of the instruments. These soundboard recordings can miss a of of the ambiance that the spectators were experiencing. An audience recording mostly never sounds dull but the quality of the singing voice of the artist is obviously of lesser sound quality. But mixing these two creates a whole new magic. Now you can enjoy the shows as if you were there!
Available now are the April 23, 1977 & April 24, 1977 show in a matrix mix.
TOLEDO: SATURDAY NIGHT
APRIL 23, 1977
UNIVERSITY OF TOLEDO
CENTENNIAL HALL, TOLEDO, OHIO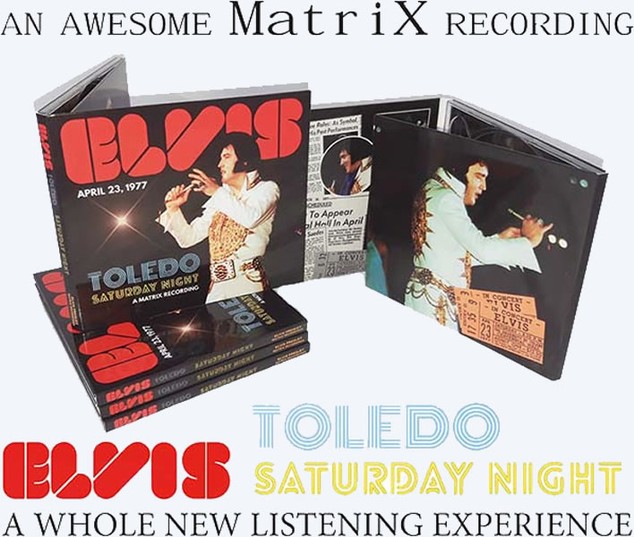 an unreleased matrix recording
tracklisting:
01. Also Sprach Zarathustra *
02. See See Rider *
03. I Got A Woman / Amen *
04. Love Me *
05. If You Love Me (Let Me Know) *
06. You Gave Me A Mountain (including false start) *
07. Jailhouse Rock *
08. O Sole Mio (Sherrill Nielsen solo) **
09. It's Now Or Never **
10. Little Sister **
11. Teddy Bear / Don't Be Cruel **
12. And I Love You So **
13. Fever **
14. Polk Salad Annie **
15. My Way **
16. Band Introductions **/*
17. Early Morning Rain *
18. What'd I Say *
19. Johnny B. Goode *
20. Ronnie Tutt solo *
21. Jerry Scheff solo *
22. Tony Brown solo *
23. Bobby Ogdin solo *
24. Introductions
25. School Days **
26. Hurt **
27. Hound Dog **
28. Can't Help Falling In Love **
29. Closing Vamp **/*
30. Closing Announcement *
* Audience
** Audience – Soundboard
31. bonus track : my way – from stereo source