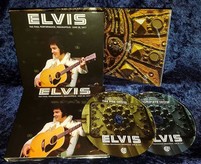 Elvis The Final Performance 2 CD
Elvis' Final Performance for sure was a legendary performance, on the night of June 26th, 1977 nobody was aware they were witnessing a legends last outing on stage.
Now it's all history and this historic performance is available on Elvis : The Final Performance June 26th, 1977 2 CD Set set in its entirety.
This Remastered Edition audience recorded show also includes the pre-show by JD Sumner & The Stamps Plus The Sweet Inspirations.
To be short, a historic performance that can't be missed in any music collection.
Jd Sumner & The Stamps
01 Great Good Morning
02 Street Corner Preacher
03 Gone At Last
04 Operator
05 Swing Low, Sweet Chariot
The Sweet Inspirations
06 Black Sunday
07 If You Leave Me Now
08 Get Away
09 Introductions
01 Also Sprach Zarathustra
02 See See Rider
03 I Got A Woman / Amen
04 Love Me
05 Fairytale
06 You Gave Me A Mountain
07 Jailhouse Rock
08 O Sole Mio / It's Now Or Never
09 Little Sister
10 Teddy Bear / Don't Be Cruel
11 Release Me
12 I Can't Stop Loving You
13 Bridge Over Troubled Water
14 Band Introductions
15 Early Mornin' Rain
16 What'd I Say
17 Johnny B. Goode
18 Larry London Drum Solo
19 Jerry Scheff Bass Solo
20 Tony Brown Piano Solo
21 I Really Don't Want To Know
22 Bobby Ogdin Electric Clavinet Solo
23 Joe Guercio Orchestra
24 Hurt
25 Hound Dog
26 Introductions
27 Can't HeLP Falling In Love
28 Closing Vamp