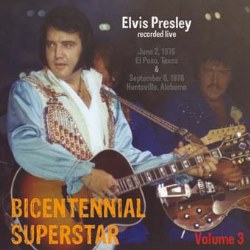 Elvis Presley - Bicentennial Superstar Vol. 3 CD
We'd like to announce Volume 3 of our very well received series 'Bicentennial Superstar', a brandnew TNT Records' CD release. It is going to be presented in our usual high quality standard. Out in just 10 days from now it will be a 2 CD set containing two complete shows taken from soundboard recordings. Once more we were able to use the technical power of our friends at 'Audionics' – most likely THE premium and still active label when it comes to rare recordings in best possible sound. A 16-page booklet containing all the information you need to know regarding the concerts is also included.
This time we paired two rare shows from early June and early September of 1976, both recorded from the soundboard. When Elvis was on Tour in El Paso, Texas on June 2nd he delivered what the fans expected. The show clearly had its moments of excellence and critics were nice enough to call it a typical 'Elvis spectacular'. A few months later Elvis played Huntsville, Alabama on September 6. The tour didn't start very successful but Elvis was able to get in better shape and around September 4 he delivered mostly decent shows until the end of that tour.
Sit back and enjoy experiencing Elvis in the Summer of 76 doing some great renditions of his Concert standards of the time like 'Hurt', 'You Gave Me A Mountain', 'Help Me' and 'America The Beautiful'!
Bicentennial Superstar Vol. 3 Tracklist:
CD1 (El Paso):
01. Also Sprach Zarathustra 02. See See Rider 03. I Got A Woman / Amen 04. Love Me 05. If You Love Me (Let Me Know) 06. You Gave Me A Mountain 07. All Shook Up 08. Teddy Bear / Don't Be Cruel 09. Help Me 10. Fever 11. Jailhouse Rock 12. And I Love You So 13. Polk Salad Annie 14. Band Introductions 15. Early Mornin' Rain 16. What'd I Say 17. Drum Solo (Ronnie Tutt) 18. Bass Solo (Jerry Scheff) 19. Piano Solo (Tony Brown) 20. Electric Piano & Clavinet Solo (David Briggs) 21. Love Letters 22. School Day 23. Hurt #1 24. Hurt #2 25. Hound Dog 26. Funny How Time Sips Away 27. Can't Help Falling In Love 28. Closing Vamp & Announcements
CD2 (Huntsville):
01. Also Sprach Zarathustra 02. See See Rider 03. I Got A Woman / Amen 04. Love Me 05. Fairytale 06. You Gave Me A Mountain 07. All Shook Up 08. Teddy Bear / Don't Be Cruel 09. And I Love You So 10. Jailhouse Rock 11. Fever 12. America The Beautiful (with reprise) 13. Band Introductions 14. Early Mornin' Rain 15. What'd I Say 16. Johnny B. Goode 17. Drum Solo (Ronnie Tutt) 18. Bass Solo #1 (Jerry Scheff) 19. Bass Solo #2 (Jerry Scheff, incomplete) 20. Electric Piano & Clavinet Solo (David Briggs) 21. Love Letters 22. School Day 23. Hurt (with reprise) 24. Hound Dog 25. Danny Boy (Sherrill Nielsen) 26. That's All Right (with false start) 27. Blue Christmas 28. Mystery Train / Tiger Man (with false start) 29. Funny How Time Sips Away 30. Can't Help Falling In Love 31. Closing Vamp & Announcements