DVD The February 1977 Tour (Cine8)
Cine8 returns after their very well received release "A Medley Of Costumes" with their second DVD featuring unreleased 8mm footage. While Elvis his first tour of 1977 was a step down in comparison to the great december '76 tour, Elvis still seemed to have the spirit to put on some great shows, while he looked far from his best during the first show, things improved as the tour went on and he started to look much better. This tour often has been overlooked when it comes to footage and so ''The February 1977 Tour'' DVD fills that gap!
On this DVD we've opted to create a watchable DVD consisting of various performances from 7 different shows on this tour, matched with soundboard sound you'll find complete performances of ''Fairytale'' as performed in Charlotte, NC on February 20th, the only version of ''Big Boss Man'', the two versions of ''Blueberry Hill'' Elvis performed on this tour along with the rare ''Where No One Stands Alone'', a rousing version of ''Polk Salad Annie'' and ''It's Now Or Never'' performed on February 16th among other performances, the DVD is rounded out by a few unedited clips, including a rare ''Funny How Time Slips Away'' and a blistering version of ''Hurt'' performed during the very first show of this tour.
Sit back, relax and enjoy this release!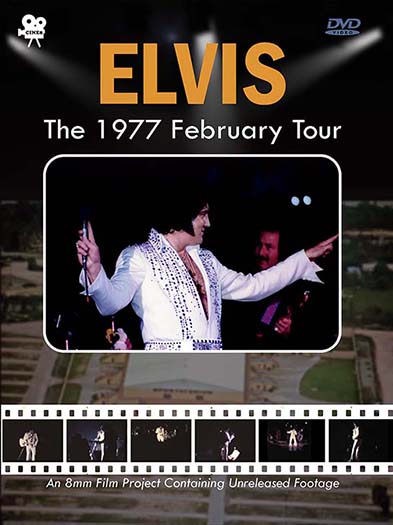 Also Sprach Zarathustra
See See Rider
I Got A Woman / Amen
Love Me
Fairytale
Jailhouse Rock
O Sole Mio / It's Now Or Never
Big Boss Man
Little Sister
Teddy Bear / Don't Be Cruel
My Way
Polk Salad Annie
Blueberry Hill
Love Letters
Hurt
Hound Dog
Where No One Stands Alone
Fever
Can't Help Falling In Love
Bonus performances:
See See Rider (February 20th, 1977)
Love Me (February 13, 1977)
Jailhouse Rock (February 13, 1977)
It's Now Or Never (February 19, 1977)
Introductions / Blueberry Hill (February 13, 1977)
Little Sister (February 19, 1977)
Polk Salad Annie (February 19, 1977)
You Gave Me A Mountain (February 12, 1977)
Hurt (February 12, 1977)
Funny How Time Slips Away (February 12, 1977)