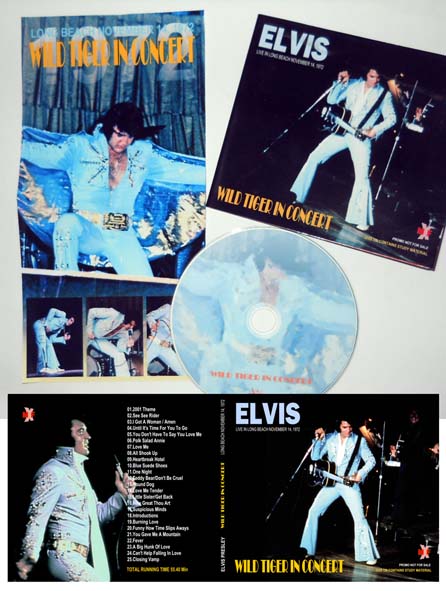 A MxF label release "Wild Tiger in Concert" featuring the Long Beach, November 14, 1972 Show.
The November Tour represent the third tour of a busy year, Elvis in 1972 is still a rocking Elvis but without any doubt it is the last year with Elvis is still on the top of his shape. For this reason his performance is superb, in spite some fatigue and maybe some worries about the imminent Hawaii TV satellite Show, Elvis is very energetic on stage, full of enthusiasm and he sings with power the classic repertoire of the 1972 including the incredible "new rocker single" "Burning Love". On stage you see an impressive figure in his Aztec star blue jumpsuit and golden cape, the rocker attitude still intact, his voice is great, the atmosphere enormous, the demand terrific, 28.000 lucky people attended at the two shows of Long Beach.
The show was previously released in a substandard quality using an unknown generation copy of the tape released by the Tiger label way back in 1991. Here we present the show directly from a first generation copy of a privately-recorded 60-minute cassette. The sound was painstakingly restored for your listening pleasure. The improvement is incredible, the sound quality here is incredible good, considering it was taped from the audience. Elvis' voice is loud and clear, the band sounds very powerful in very good balanced mix with some great James Burton' guitar solos, the audience is never too intrusive giving instead the real feeling of the concert.
The recording excellent quality and the superb show give to Wild Tiger in Concert the status of UNIQUE. Don't miss it!!!!
Tracklist:
As recorded live at Long Beach Arena, November 14, 1972
01.2001 Theme 02.See See Rider 03.I Got A Woman / Amen 04.Until It's Time For You To Go 05.You Don't Have To Say You Love Me 06.Polk Salad Annie 07.Love Me 08.All Shook Up 09.Heartbreak Hotel 10.Blue Suede Shoes 11.One Night 12.Teddy Bear/Don't Be Cruel 13.Hound Dog 14.Love Me Tender 15.Little Sister/Get Back 16.How Great Thou Art 17.Suspicious Minds 18.Introductions 19.Burning Love 20.Funny How Time Slips Aways 21.You Gave Me A Mountain 22.Fever 23.A Big Hunk Of Love 24.Can't Help Falling In Love 25.Closing Vamp
CD runs about 56.00 min.