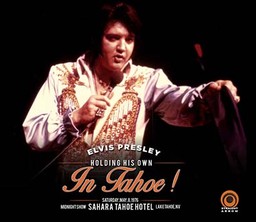 Elvis Presley - Holding His Own In Tahoe May 8, 1976 CD
Straight Arrow is pleased to bring you a previously unreleased concert from Elvis' last season in Lake Tahoe. Opinions on the standard of Elvis' last stint in Lake Tahoe often vary. Granted, he did look quite bloated during these shows, and the jumpsuits often looked unflattering, but Elvis was generally in good voice. He delivered his longest ever shows in Tahoe and the King really did seemed to enjoy the intimacy of the showroom, along with the rapport with the fans in attendance there. The May 8th 1976 Midnight Show is, without doubt, one of best concerts from the engagement. With the exception of a messed-up "The Wonder Of You", Elvis performed consistently well at this concert. His delivery, on the whole, was very strong. There's a nice intimacy to the recording, and his interplay with audience and musicians alike was a true delight. There were also a number of vocally-impressive renditions, one being Elvis' latest RCA single, "Hurt", which he performed twice. Also Worth a mention were solid performances of "Polk Salad Annie", "My Way", "Tryin' To Get To You" and "Mystery Train / Tiger Man". A water pistol fight at the beginning of the show underlined how much Elvis was enjoying himself. A most interesting concert in rather good sound quality - ask your dealer for sound samples. If you liked our other Lake Tahoe 1976 releases like "A Triple Threat!" (SA/SP 2011-03-02), we'll bet that you will also love this one!
Tracklist:
CD1:
01. Introduction: Also Sprach Zarathustra - 02. C. C. Rider - 03. I Got A Woman / Amen - 04. Love Me - 05. If You Love Me Let Me Know - 06. You Gave Me A Mountain - 07. All Shook Up - 08. (Let Me Be Your) Teddy Bear / Don't Be Cruel - 09. Tryin' To Get To You - 10. My Way - 11. Polk Salad Annie.
CD2:
01. Introductions of singers, musicians, orchestra - 02. Early Morning Rain - 03. What'd I Say - 04. Johnny B. Goode - 05. Drum Solo (Ronnie Tutt) - 06. Bass Solo (Jerry Scheff) - 07. Piano Solo (Tony Brown) - 08. Electric Piano & Clavinet Solo (David Briggs) - 09. Love Letters - 10. School Day - 11. Hurt #1 - 12. Hurt #2 - 13. Fever - 14. Softly As I Leave You - 15. My Heavenly Father Watches Over Me (Kathy Westmoreland) - 16. Danny Boy (Sherrill Nielsen) - 17. Hound Dog - 18. Introduction of Vernon Presley - 19. The Wonder Of You (with false start) - 20. Hawaiian Wedding Song - 21. Mystery Train / Tiger Man - 22. Can't Help Falling In Love - 23. Closing Vamp.