2 CD-SET ELVIS – COME WHAT MAY THE LOST 1966 ALBUM (REEL TRAX CDP 3718)
What If…..? Many people, in concerns of music, sports, politics and many more genre´s just love to ask: What If…..? Elvis fans do that as well! So let´s get to the point: What If RCA had released an LP album like our brandnew REEL TRAX release in November of 1966? We don´t know for sure of course, but we assume that the view on Elvis´ career in the Sixties would probably be significantly different. But since this obviously did not happen the way we wish it had, Elvis is mainly being remembered in this decade as a celluloid artist. His last studio album that had nothing to do with "typical" movie songs had been ''Pot Luck'' and it had been released way back in 1962. In the meantime the majority of Elvis´ album releases had clearly been dominated by his movie soundtracks (which showed in releases on singles and EP´s as well – plus we all know that there would have to be that so-called "Lost Album" in ´63 which never had been realized ). It seemed to be a perfect formula to maximize financial success to release movie soundtrack after movie soundtrack. Even considering taking the risk to lose credibility as a performer who once was known as being a "rebel", a man who changed just about everything in contemporary pop music business only 10 years earlier. Lost Album – Missed opportunity? Tracks 1 – 12 are taken from the forthcoming REEL TRAX vinyl release "Come What May" (LSP 3718), which deals with a so-called "Lost Album" theory for November 1966. All other songs used for this CD release are mainly based on international 45 r.p.m single releases of 1966. While some of the titles are almost common knowledge when it comes to be known as single tracks on Elvis´ official RCA-Label (like "Tell Me Why" and "Blue River" for instance), the "Girl Happy" songs ''Do Not Disturb'' and ''Spring Fever'' have been released that year only on a single in India. The "Paradise Hawaiian Style" LP tracks "Drums Of The Islands", "This Is My Heaven", "House Of Sand" and the title track of the movie only showed up on single releases in the Philippines (all on RCA as well).
By the mid-1960´s it was about time to reflect Elvis´ musical career, to think about changes, to have respect for new influences in terms of songs and sounds. History tells us that this most likely never has happened. And still, there were opportunities to bring back some of that old magic from a couple of years earlier. One of those "chances" took its start in May of 1966 when Elvis returned to "Studio B" in Nashville for a recording session with material for two albums! One of them would become a Grammy-Award winning album full of Gospel music (just like in 1960), titled "How Great Thou Art"! The other one could have been similar to the one you hold in your hands now. Elvis was highly motivated to do the sessions and he did a mighty good job on the material which consisted of Gospel songs and well chosen Covers of genres from Folk to Rhythm n´ Blues titles. The ''How Great Thou Art'' LP became a gold album and sure made Elvis very proud of it. But what about the rest of the songs from the sessions in May of 1966? What happened to the possible second album? Well, there was no second album! The songs, which could have been used for another pretty solid "concept" (and therefore artistically much more valuable) album finally appeared on singles and as bonus songs on upcoming soundtrack albums. A big disappointment indeed and again we would like to ask: What if…..? To give it a fresh ambience, the best / most interesting alternate takes for the songs have been chosen. Disc 2 comprises more complete and partly spliced outtakes of the titles from Disc 1. Discover a stand-out and never before released version of the title "God´s Gonna Cut ém Down" (also known as "Run On") which features a splice of Takes 1 and 6. Also included are the original demos of four songs sung by Bobby "Red " West. Two of them were even written by him!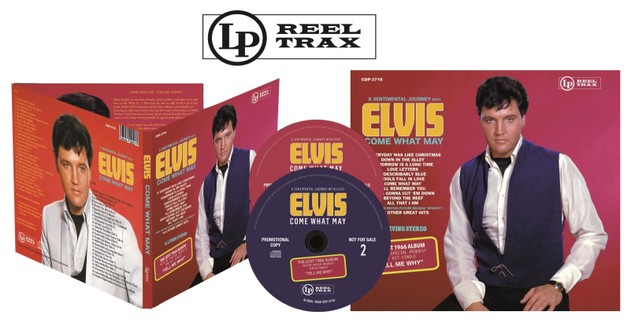 TRACKLISTING:
Disc 1:
01. Come What May (Take 2)
02. Tomorrow Is A Long Time (Take 2)
03. Love Letters (Take 7)
04. Fools Fall In Love (Take 4)
05. Beyond The Reef (Take 2 - Rejected Master)
06. Tell Me Why * (Master)
07. Down In The Alley (Take 1)
08. I'll Remember You (Take 2)
09. All That I Am (Take 2)
10. God's Gonna Cut 'Em Down (Take 2)
11. Indescribably Blue (Take 1)
12. If Everyday Was Like Christmas (Take 2)
13. Joshua Fit The Battle (Take 1)
14. Blue River (Take 2)
15. Spinout (Take 2)
16. Known Only to Him (Take 2)
17. Milky White Way (Take 5)
18. Frankie And Johnny (Take 1)
19. Please Don't Stop Loving Me (Take 3 - lower key)
20. Swing Down Sweet Chariot (Take 3)
21. How Would You Like To Be (Take 1)
22. Do Not Disturb ** (Take 27)
23. Spring Fever ** (Take 4)
24. This Is My Heaven *** (Take 3)
25. Drums Of The Islands *** (Take 5)
26. Paradise Hawaiian Style *** (Take 1)
27. House Of Sand *** (Take 3)
* Unreleased Stereo Version
** Released by RCA India on 45rpm
*** Released by RCA Phillippines on 45rpm
Disc 2:
01. God's Gonna Cut 'Em Down (Take 1 & 6 - Spliced)
02. Come What May (Takes 3, 4)
03. Fools Fall In Love (Take 5 - Master)
04. Love Letters (Take 2)
05. Down In The Alley (Take 6)
06. Spinout (Takes 3-5 M)
07. Tomorrow Is A Long Time (Take 3 - Master)
08. Beyond The Reef (Take 1 & 2 - Undubbed)
09. I'll Remember You (Take 1)
10. All That I Am (Take 4)
11. Joshua Fit The Battle (Take 2)
12. Swing Down, Sweet Chariot (Take 1)
13. Known Only To Him (Take 5)
14. Frankie And Johnny (Takes 4 & 6 M)
15. Milky White Way (Take 3)
16. Please Don't Stop Loving Me (Take 7)
17. Do Not Disturb (Take 35)
18. Spring Fever (Take 21)
19. This Is My Heaven (Take 7)
20. Paradise Hawaiian Style (Take 1 & 4 - Spliced)
21. Indescribably Blue (Master - Take 2)
22. I'll Remember You (Demo By Red West)
23. If Every Day Was Like Christmas (Demo By Red West)
24. Indescribably Blue (Demo By Red West)
25. Sleepless Nights Endless Days (Demo By Red West)