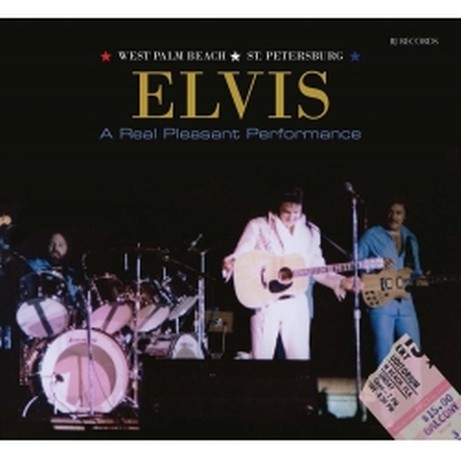 After the success of our first title BJ Records is proud to present their second release ''A Real Pleasant Performance''.
We've decided to bring you a stunning 2 CD package containing two concerts newly mixed into matrix stereo sound.
The concerts presented here were recorded on February 13 in West Palm Beach and February 14 1977 in St. Petersburgh and while these shows have been released previously from the soundboard tapes they deserved a brand new make-over and have never sounded better,
we've gone back and mixed the two shows from scratch and took it to a new level by mixing in the audience recordings from these shows giving the two shows new depth and wider sound detail and showing clear improvements to an otherwise standard soundboard.
Listen to great performances of ''It's Now Or Never'' the great crowd interaction during ''Fever'' a stunning ''My Way'' and touching ''And I Love You So'' and not to forget the two versions of ''Blueberry Hill'' among other highlights.
Taking things a a little further there's also bonus performances included from the rest of the tour which we gave the the same mixing treatment and we have great versions of ''Trying To Get To You'' ''Release Me'' ''Unchained Melody'' ''How Great Thou Art'' and the one and only live performance of ''Where No One Stands Alone''. We're sure you'll be pleasantly Surprised at the sound and this deserves to be in everyone's collection.
This release is presented in a digipak containing some fantastic brand new photos from West Palm Beach along with photos from other dates on this tour.
Be sure to ask for samples from your local Elvis dealer.
Disc 1 - February 13, 1977
01. Little Sister (Incomplete)
02. You Gave Me A Mountain
03. Blue Suede Shoes
04. O Sole Mio - It's Now Or Never
05. My Way
06. All Shook Up
07. Teddy Bear / Don't Be Cruel
08. And I Love You So
09. Fever
10. Blueberry Hill (Tony Brown on Piano)
11. Hurt
12. Hound Dog
13. Danny Boy (By Sherril Nielsen)
14. Walk With Me (By Sherril Nielsen)
15. Jailhouse Rock
16. Can't Help Falling In Love / Closing Vamp
17. Polk Salad Annie (February 16, 1977)
18. Where No One Stands Alone (February 16, 1977)
19. Unchained Melody (February 16, 1977)
20. Trying To Get To You (February 18, 1977)
21. Release Me (February 18, 1977)
Disc 2
01. If You Love Me (Let Me Know) - Incomplete
02. You Gave Me A Mountain
03. O Sole Mio - It's Now Or Never
04. All Shook Up
05. Teddy Bear / Don't Be Cruel
06. And I Love You So
07. Fever
08. My Way
09. Blueberry Hill (Elvis on Piano)
10. Love Letters
11. School Day
12. Hurt
13. Hound Dog
14. Can't Help Falling In Love / Closing Vamp
15. Fairytale (February 20, 1977)
16. How Great Thou Art (February 20, 1977)
17. Reconsider Baby (February 21, 1977)
18. Moody Blue (February 21, 1977)
19. Why Me Lord (February 21, 1977)