Meet Me in Memphis - Elvis as recorded live in the Midsouth Colliseum
DVD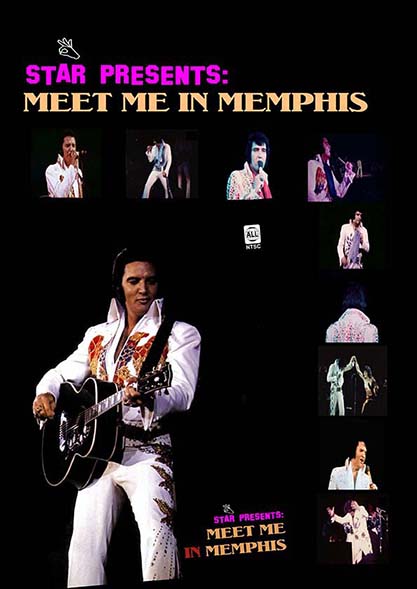 This dvd includes all songs complete from the 1974 concert, without skips and black screens, even the spoken parts are edited in a way as if it is the real deal! Fans from the label know what to expect so get ready for the dvd of the year! The last months lots of footage has seen the light of day, but most of it is purely for collectors, since it is either way to short, bad sound or bad edits or all combined...
Edited together from various sources, the best angles and footage. Elvis is in great shape and looks fantastic. The audio is from Multitrack and will blow you away! The STAR team has been working on this project for months now and the result is STUNNING, never before a 1974 concert this complete with over 90 procent of edits from the actual year has been released. The best thing to do probably is to see the trailer and then your next move, for sure, will be PRE ORDERING!
It is impossible to name some of the highlights, since the whole dvd is one big highlight.
This NTSC DVD (Region free) is Limited to 500 copies. This will sell out before summer!!
TRACKS:
Pre Show:
Elvis (2022) Trailer
Faded Love - Official Video
I'll Take You Home Again Kathleen - Official Video
Main Program:
1: Also Sprach Zarathustra
2: See See Rider
3: I Got A Woman/Amen
4: Love Me
5: Trying To Get To You
6: All Shook Up
7: Steamroller Blues
8: Teddy Bear/Don't Be Cruel
9: Love Me Tender
10: Rock and Roll Medley
11: Fever
12: Polk Salad Annie
13: Why Me, Lord
14: How Great Thou Art
15: Suspicious Minds
16: Band introductions
17: I Can't Stop Loving You
18: Help Me
19: American Trilogy
20: Let Me Be There
21: My Baby Left Me
22: Lawdy Miss Clawdy
23: Funny How Time Slips Away
24: Can't Help Falling In Love
25: Closing Vamp
Bonustrack: Until It's Time For You To Go - Official video
Trailer:
https://www.youtube.com/watch?v=ZjYoVKWdHjU