HANG LOOSE - Elvis Live From Hawaii, January 12, 1973
At the start of this year STAR released the now near to sold out "Elvis From Hawaii"
The dvd included all available camera angles combined with new sound and is to date the best version out there.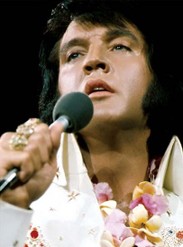 Now the rehearsal concert has been giving the same treatment, with remastered sound and for the first time ever it includes MULTIPLE angles of the show.
This REGION FREE factory pressed dvd is limited to 500 copies and will most likely sell out before the summer.
Next to the complete live concert it also includes the interview Elvis gave on his arrival on Honolulu to Tom Moffat and some other nice surprises like "The Story behind Burning Love"
"Proud Mary" (Official Clip) "I've Got A Feeling In My Body" (Elvis arrives on Hawaii) and more!
Main Show:
1. Introduction: Also Sprach Zarathustra (Theme From 2001: A Space Odyssey) 1:08
2. See See Rider 3:01
3. Burning Love 3:03
4. Something 2:25
5. You Gave Me A Mountain 3:18
6. Steamroller Blues 3:15
7. My Way 4:13
8. Love Me 1:43
9. It's Over 2:12
10. Blue Suede Shoes 1:23
11. I'm So Lonesome I Could Cry 2:08
12. Hound Dog 0:59
13. What Now My Love 3:18
14. Fever 2:35
15. Welcome To My World 1:58
16. Suspicious Minds 4:00
17. Introductions by Elvis 2:24
18. I'll Remember You 2:37
19. An American Trilogy 4:26
20. A Big Hunk O' Love 2:44
21. Can't Help Falling In Love 1:41
22. Closing Vamp 1:56