SUMMER '61 - 60th ANNIVERSARY OF THE JUNE & JULY 1961 SESSIONS
ELVIS ONE presents 'Summer '61'. This album is a celebration of the 60th anniversary of the June and July 1961 sessions at RCA Studio B in Nashville, Tennessee. Including masters and outtakes from the 'Follow That Dream' soundtrack, the 'Pot Luck with Elvis' album, and the double-sided hit single '(Marie's The Name) His Latest Flame' backed with 'Little Sister'. In only 3 days (June 25 / 26 and July 2) Elvis recorded 11 songs with great succes in the charts. Besides 'His Latest Flame' three more songs were released on single... Including many alternate takes in great sound that are still unreleased by Elvis' record company and 5 Mono single masters!
This is a limited special edition with artwork from the Japanese 'Follow That Dream' movie poster. Enjoy this celebration - Enjoy the Summer of '61.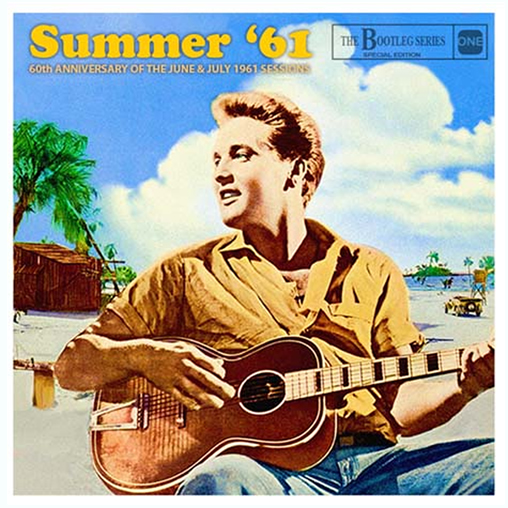 01. Little Sister
02. Kiss Me Quick (alternate take 2)
03. (Marie's The Name) His Latest Flame (alternate take 3)
04. I'm Yours (stereo single master)
05. I'm Yours (take 3 + work part 1 - ending, take 1 & 2)
06. Kiss Me Quick (alternate take 3)
07. That's Someone You Never Forget
08. Little Sister (alternate take 6)
09. (Marie's The Name) His Latest Flame (alternate take 7 & 9)
10. (Marie's The Name) His Latest Flame (alternate take 6)
11. A Whistling Tune (alternate take 1)
12. Angel (EP mono master)
13. Sound Advice (alternate takes 2-5)
14. I'm Not The Marrying Kind (alternate take 1 & 5)
15. Follow That Dream (alternate take 5)
16. Follow That Dream (EP mono master)
17. What A Wonderful Life (EP mono master)
18. I'm Not The Marrying Kind (alternate take 7)
19. I'm Not The Marrying Kind (EP mono master)
20. Little Sister (alternate take 10 & 11)
21. Kiss Me Quick (alternate take 5 & 6)
22. Kiss Me Quick (alternate take 7)
23. Kiss Me Quick (alternate take 8 & 9)
24. Kiss Me Quick (alternate take 10)
25. Kiss Me Quick (alternate take 11)
26. That's Someone You Never Forget (alternate take 2, 3, 4 & 6)